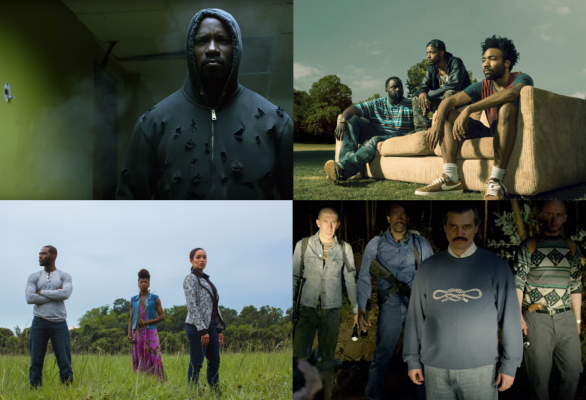 Well everyone, we hope you enjoyed your August "off" because it is September and TV is back in session hard core.
Let's bitch it out…
Hold onto your hats, folks. In addition to the return of most of the network TV options (save The CW, which never starts up until October), we have a ton of new cable series to contend with. As the era of #PeakTV continues, selectively choosing how much TV your viewing schedule can handle will be paramount. With that in mind, we're shifting our coverage to focus on 3 areas:
New and Notable: these are the new series that we believe are the water cooler series that got this site started in the first place. You need to be watching these newbies.
Returning Favourites: these series are tried and true. We're talking about great TV that you can't wait to welcome back.
Guilty Pleasures: you won't see these series dominating the year end Best Of lists, but they still have the capacity to entertain on a long weekend or "sick" day. Some may be more worthy than others – you'll have to judge the quality for yourself.
The full list of scripted series, returning and debuting, is available at the bottom. As always, we will be watching the series marked with a **. Read on!
New and Notable (Chronological by Date)
  Atlanta S1 (FX – Sept 6)**
What is it about? According to Metacritic: Community's Donald Glover created and stars in this comedy series as a loner who returns home to Atlanta, where he is drawn into the city's rap scene as his cousin's hip hop career takes off.
Why is it new and notable? Glover has proven his mettle as a rising talent and FX has a pretty solid history of delivering quality shows. While it's uncertain just what exactly Atlanta is actually about, its combination of Louie meets Master of None vibe has us very excited.
# of episodes: 10
Debuts: Tuesday, Sept 6 at 10pm EST
Queen Sugar S1 (OWN – Sept 6)**
What is it about? Inspired by the book by Natalie Baszile, Queen Sugar chronicles the lives and loves of the estranged Bordelon siblings in Saint Josephine, Louisiana: Nova (Rutina Wesley), a world-wide journalist and activist; Charley (Dawn-Lyen Gardner), the savvy wife and manager of a professional basketball star; and Ralph Angel (Kofi Siriboe), a formerly incarcerated young father in search of redemption. After a family tragedy, the Bordelons must navigate the triumphs and struggles of their complicated lives in order to run an ailing sugarcane farm in the Deep South.
Why is it new and notable? In addition to Wesley (who is compulsively watchable in everything), the series is notable for the involvement of two prominent women of colour: Selma director and series creator Ava DuVernay and Oprah. In addition to these juggernauts, the 

entire series

is directed by women. Judging by the trailer above it's going to be gorgeous, powerful and poignant. Also: the series has already been picked up for S2, always a good sign.
# of episodes: 13
Debuts: Tuesday, Sept 6 at 10pm EST
Better Things S1 (FX – Sept 8)**
What is it about? An actress raises her three daughters while juggling the pressures of working in Hollywood and being a single parent.
Why is it new and notable? Series co-creator and star Pamela Adlon shot to attention when she starred as Louie CK's girlfriend on Louie, particularly with regards to the controversial episode 'Pamela Part 1' which prompted lots of dialogue about rape and consent. The pair have co-created this semi-autobiographical series and it bears a similar aesthetic and tone to Louie, which might be the next best thing until that series returns.
# of episodes: 10
Debuts: Thursday, Sept 8 at 10pm EST
One Mississippi S1 (Amazon – Sept 9)**
What is it about? One Mississippi follows comedian Tig Notaro as she returns to her childhood home to deal with the unexpected death of her beloved mother. Struggling with her own health and relationship challenges, she decides to reconnect with her roots to heal and move forward.
Why is it new and notable? Much like Better Things above, One Mississippi seems destined to fill the hole in our Transparent hearts – a dry, witty, emotional look at family and the idea of home. Notaro is a well-respected comedian, though this series will likely catapult her into a whole new stratosphere. As the best reviewed of Amazon's pilot crop, the series could even pick up awards chatter if the rest of the series is as well-received as the pilot.
# of episodes: 10
Debuts: All episodes drop Friday, Sept 9
Fleabag S1 (Amazon – Sept 16)**
What is it? This dark, sexually explicit British comedy series is an adaptation of series creator Phoebe Waller-Bridge's award-winning play of the same name in which she stars as the title character, an unhappy, porn-addicted woman struggling with modern life in London including the loss of her best friend, a breakup, and financial troubles at her café
Why is it a guilty pleasure? The trailer looks like loads of fun, with its direct address from a very game Waller-Bridge, a batty performance by Broadchurch star Olivia Coleman and a Sex & The City meets Bridget Jones' Diary vibe.
# of episodes: 6
Debuts: All episodes are available Friday, Sept 16
The Good Place S1 (NBC – Sept 19)**
What is it about? Kristen Bell stars as a bad New Jersey woman who dies and, in a bureaucratic mix-up, winds up in a much better afterlife than she deserves. Now she must attempt to change her life for the better, if she can figure out what it means to be a good person
Why is it new and notable? Creator Mike Schur is the creator of favourites Parks and Recreation and Brooklyn 99, so this guy knows good comedy. Landing Bell and Danson for regular TV gigs is a major coup and NBC clearly thought the concept was solid when the script went straight to series, no pilot required.
# of episodes: 13
Debuts: Double sneak preview Monday, Sept 19 at 10 (moves to regular 8:30pm timeslot on Thursday, Sept 25)
This Is Us S1 (NBC – Sept 20)**
What is it about? The logline for this buzzy new drama is almost laughably simplistic: it is an ensemble piece revolving around various people (some sharing the same birthday) whose lives intertwine in surprising ways.
Why is it new and notable? The trailer for the series, starring Mandy Moore and Milo Ventimiglia, plus recent The People v. O.J. Simpson standout Sterling K. Brown, was an audience smash when it debuted back in May. To date it has racked up nearly 7.5 million views on YouTube, so there's clearly 

a lot

of people (fans of Milo's butt?) who are eagerly waiting for its debut.
# of episodes: Unknown
Debuts: Tuesday, Sept 20 at 10pm EST
Speechless S1 (ABC – Sept 21)**
What is it about? Maya DiMeo (Minnie Driver) is a mother who is willing to do anything for her family. Her son, JJ (Micah Fowler) has cerebral palsy and she will fight for justice in order to give him what he deserves.
Why is it new and notable? There's a lot of heart on display in the Speechless trailer, as well as a surprising amount of bite in Driver's performance. Casting a real-life disabled actor in a pivotal role gives the series a certain authenticity and while I'm cautious about the sweet'n'salty "lessons learned" special episode nature of the trailer, I'm confident this will fit right in with black-ish as a gem in ABC's family programming. Along with This Is Us, this has break-out potential.
# of episodes: 13?
Debuts: Wednesday, Sept 21 at 8:30pm
Pitch S1 (FOX – Sept 22)
What is it about? A young pitcher becomes the first woman to play in the majors when she is called up by the San Diego Padres in this sports drama from Dan Fogelman (Galavant) and Rick Singer.
Why is it new and notable? There's huge buzz for lead actress Kylie Bunbury and the show has generated plenty of goodwill in advance previews. The show is also aiming for a level of realism by licensing with Major League Baseball which means real teams and players will be stopping by to lend some credibility to the proceedings. If you're looking for a smart, feel good sports drama with heart, this is your best bet.
# of episodes: 13
Debuts: Thursday, Sept 22 at 9pm
Crisis in Six Scenes S1 (Amazon – Sept 30)
What is it about? Little is known about the series other than the fact that it is Woody Allen's first-ever scripted TV series, a six-episode domestic comedy set in the 1960s.
Why is it new and notable? We'd be remiss to say that there will always be people who are uncomfortable with any Allen project due to his personal life, but it would be foolish to say that there aren't audiences who will be excited for a new ongoing narrative from the prolific director. Throw in some oddball casting like Miley Cyrus and Joy Behar and people will be paying attention.
# of episodes: 6
Debuts: All episodes drop Sept 30 at 12pm EST
Marvel's Luke Cage S1 (Netflix – Sept 30)**
What is it about? The third of five planned Marvel series to debut on Netflix (following Daredevil and Jessica Jones), Luke Cage stars Mike Colter as the title character, a street-fighting ex-con who battles crime on the streets of New York.
Why is it new and notable? A new Marvel/Netflix collaboration is always cause for celebration. Thus far we're 2/2 in terms of quality and excitement, and since we've already seen Colter in action and in character on Jessica Jones, we already know that he's fantastic in the role. Throw in a stellar cast that includes Mahershala Ali and Alfre Woodard as baddies and Luke Cage is one of the most exciting series debuting this month.
# of episodes: 13
Debuts: All episodes drop Friday, Sept 30 at 3am EST
Returning Favourites (Chronological by Date)
Narcos S2 (Netflix – Sept 2)**
Why is it a returning favourite? In its debut season, Narcos proved to be a highly engrossing series about the rise and fall of notorious Colombian drug lord Pablo Escobar. The fact that nearly all of the most dramatic developments on the series are based on real facts – seriously, there were some jaw-dropping bizarre events – only made the series more compulsively watchable. S2 promises more of the same, including more of lead actor Wagner Moura's Golden Globe nominated performance.
# of episodes: 10
Returns: Friday, Sept 2 at 3am EST
Brooklyn 99 S4 (FOX – Sept 20)**
Why is it a returning favourite? Dan Goor and Mike Schur's wacky police precinct has been a delightful charm for several seasons, so spending more time with the crew of the 99 is always welcome. As always, last season ended with a big cliffhanger as Jake (Andy Samberg) and Captain Holt (the wonderfully deadpan Andre Braugher) went into witness protection in Coral Palms, Florida. Look for awesome character actor Ken Marino to fill in as Captain in Holt's absence.
# of episodes: 22-23
Returns: Tuesday, Sept 2 at 3am EST
black-ish S3 (ABC – Sept 21)
Why is it a returning favourite? In addition to showing up on numerous Best Of lists, this ABC family sitcom found fresh ways to address political and socially relevant topics in ways that acknowledged their importance without losing sight of the funny. In a year that has seen unprecedented discussion about #BlackLivesMatter, we've never needed Dre and the crew more. Plus the child actors are great!
# of episodes: 22-24
Returns: Wednesday, Sept 21 at 9:30pm EST
Transparent S3 (Amazon – Sept 23)**
Why is it a returning favourite? We may not have been quite as hot on S2 as other folks, but there's no question that Transparent is quality television of the highest order. The Pfeffermans went on a series of scattered adventures in S2 and they were left in uncertain places at the season's end. A forthcoming family cruise to Mexico in the new season is sure to cause no end of misery, family strife and entertainment for audiences when the show returns.
# of episodes: 10
Returns: Friday, Sept 30 at 12pm EST
Younger S3 (TVLand – Sept 28)
Why is it a returning favourite? Last year was mostly a hoot – with a few dud episodes intermixed. We will admit, however, that the ongoing saga of Liza, her disastrous attempts to hide her true age and the wacky hijinks that ensue hit a bizarre manic note when Kelsey's fiance Thad MAJOR SPOILER was killed in a freak accident in the penultimate episode and his identical twin brother showed up at the wake END MAJOR SPOILER. Still we're very intrigued to see where things go from here.
# of episodes: 10-12?
Returns: Wednesday, Sept 28 at 10pm EST
Guilty Pleasures (Chronological by Date)
StartUp S1 (Crackle – Sept 6)
What is it? StartUp explores what happens when a brilliant, yet controversial tech idea gets incubated on the wrong side of the tracks by three strangers who don't necessarily fit the mold of "tech entrepreneurs". Forced to fund a tech company with dirty money from unsuspecting places while forming ties with a dangerous, Haitian gang, the fight to build a business pales in comparison to the fight to stay alive, especially when there's a vehement FBI agent who wields the power to make or break those he comes in contact with—and not always for the right reasons.
Why is it a guilty pleasure? The acting quality is definitely there courtesy of leads Martin Freeman and Adam Brody (The O.C.), but the premise (and trailer) comes off a little sleazy and salacious. The Miami setting seems explicitly chosen to guarantee girls in bikinis and sweaty bodies, which isn't bad per se if you're looking for something sunny, sexy and a bit dirty on a Sunday afternoon.
# of episodes: 10
Debuts: Tuesday, Sept 6
Quarry S1 (Cinemax – Sept 9)**
What is it? In 1972, a Marine returns to Memphis after serving in Vietnam and finds repatriation rough, as he is unwelcome to his family and the public, and he gradually slips into a life of crime.
Why is it a guilty pleasure? It may be presumptive, but Cinemax is usually the home of sensational, action-heavy testosterone series (like Banshee). This doesn't in any way diminish the potential of Quarry, which has a solid leading man in Logan Marshall-Green and a distinctive period vibe working for it. This looks like a good reason to stay home on Friday nights.
# of episodes: 8
Debuts: Friday, Sept 9 at 10pm EST
Son of Zorn S1 (FOX – Sept 11)
What is it? Jason Sudeikis stars as the titular son of Zorn, a legendary animated warrior from a faraway island in the Pacific Ocean returns to Orange County, CA after a decade away, to win back his live-action ex-wife and teenage son while adapting to a new office job. One catch: he is animated, while everyone and everything else in the show is live-action.
Why is it a guilty pleasure? Admittedly the trailer is too broad for my taste, but this new Animation Domination entry earns its spot because it is the latest from wunderkind directors Phil Lord and Christopher Miller (The Lego Movie, 21 Jump Street, The Last Man on Earth) who know how to deliver a high concept with wit and surprise. Cheryl Hines and Tim Meadows (plus the voice of Nick Offerman as the sole other animated character) provide back-up.
# of episodes: 10
Debuts: Sneak preview Sunday, Sept 11 at 8pm EST (moves to regular 8:30pm timeslot on Sept 25)
American Horror Story S6 (FX – Sept 14)
Why is it a guilty pleasure? If any series can be said to be the definition of a guilty pleasure, it is AHS, which has for many years now coasted on its brand of great advertising (see above), gross-out gore and social media friendly casting (hey Gaga!) to cover its surprisingly poor plotting. Still, it's hard to find fault when the results are so effective as ratings and award nominations continue to abound.
# of episodes: 12
Returns: Wednesday, Sept 14 at 10pm EST
The Case Of: JonBenét Ramsey (CBS – Sept 18)
What is it? Hoping to ride the recent true crime gravy train all the way to the bank, this six-hour CBS docuseries tackles the notorious JonBenét Ramsey murder.
Why it is a guilty pleasure? The fact that this isn't a true docuseries so much as a bunch of hacks professionals from a variety of fields getting together to "solve" the murder "once and for all" lends it a seedy, trainwreck sort of vibe, which is why it is firmly entrenched in the guilty pleasure section.
# of episodes: 3
Debuts: Sunday, Sept 18 at 8:30pm (Parts 2 & 3 air Monday, Sept 19 and Sunday, Sept 25)
Scream Queens S2 (FOX – Sept 20)
Why is it a guilty pleasure? Last year's stunningly awful Ryan Murphy drama that claimed to be the first to combine horror and comedy returns for a second kick at the can. After all of the drama at the College, the action moves to a hospital where Zayday is working as a medical student under former Dean Munsch, a bunch of hunky doctors (including new cast members John Stamos and Taylor Lautner). Presumably the Chanels, led by venom-tongued (and over-acting queen) Emma Roberts are still around. Whether the show has figured out how to plot and pace itself is another question.
# of episodes: 13
Returns: Tuesday, Sept 20 at 9pm EST
Lethal Weapon S1 (FOX – Sept 21)
What is it? An adaptation of one of the most iconic buddy cop film franchises of all time, duo Riggs (Rectify's Chase Crawford) and Murtaugh (Damon Wayans Sr) are back. Grief-stricken after the loss of his young wife and unborn child, ex-Navy SEAL-turned-detective Riggs moves to California to "start over" at the LAPD. He's paired up with Murtagh who's just coming back to the job after a near-fatal heart attack. Riggs' penchant for diving headfirst into the line of fire immediately clashes with Murtaugh's prudent, by-the-book technique. It's clear from the moment they meet, this partnership could be lethal (UGH)
Why is it a guilty pleasure? As but one of many, many adaptations in the works, Lethal Weapon has all of the potential to break through on its name brand recognition alone. And yet, the trailer promises nothing but procedural idiocy, which lands it firmly in the Guilty Pleasure category. Also: show killer Jordana Brewster is in this, so I give it 1 season max.
# of episodes: 13
Debuts: Wednesday, Sept 21 at 8pm EST
Empire S3 (FOX – Sept 21)
Why is it a guilty pleasure? The wheels fell off the gravy train a bit in Empire's bloated second series as fans and critics alike agreed that the sophomore slump was an issue. There's no indication whether the show's tonal and narrative issues have been addressed, but the guest roster continues to impress as Mariah Carey, French Montana, Kid Cudi, and Taye Diggs swing by. Xzibit also joins the cast as a full-fledged regular.
# of episodes: 13
Returns: Wednesday, Sept 21 at 9pm EST
Designated Survivor S1 (ABC – Sept 21)
What is it? A conspiracy thriller starring Keifer Sutherland as Tom Kirkman, a lower-level cabinet member who unexpectedly becomes president after a devastating attack on Washington. He will struggle to prevent the country and his own family from falling into chaos, as he is thrust into one of the most difficult presidencies in history.
Why is it a guilty pleasure? This is most emphatically 

not

24, but ABC knows that people will tune into a series featuring  the actor best known for Jack Bauer as he once again tries to save the world. Whether Designated Survivor can live up to the hype or perform in the long run is another story, but expect good numbers for the series out of the gate.
# of episodes: 13
Debuts: Wednesday, Sept 21 at 10pm EST
The Exorcist S1 (FOX – Sept 23)
What is it? Two different priests attempt to aid a family troubled by demonic possession in this modern-day psychological thriller based on the classic 1973 horror film and William Peter Blatty's 1971 novel.
Why is it a guilty pleasure? Horror series are touch and go, and considering that the film literally ranks among the best horror films of all time suggests that the series can either coast on goodwill or it's starting at a significant disadvantage. There's a certain level of star power in the form of lead Geena Davis, but the likely guilt pleasure component comes in the form of Ben Daniels, who has been known to chew the scenery in such hamfisted works like Flesh & Bone.
# of episodes: 13
Debuts: Friday, Sept 23 at 9pm EST
Van Helsing (Syfy – Sept 23)
What is it? True Blood's Kelly Overton stars as vampire hunter Vanessa Helsing (as in Abraham's granddaughter) in this modern, action-packed take on the classic tale.
Why is it a guilty pleasure? Like many Syfy series, this one could go either way. It could be hokey, campy fun (ala Winona Earp) or it could be a complete dumpster fire of terrible writing, acting and special effects. It's probably best not to judge the pilot since genre series frequently need a few episodes to build their world, but this one looks more likely to fall into the guilty pleasure side.
# of episodes: 13
Debuts: Friday, Sept 23 at 10pm EST
Aftermath S1 (Syfy – Sept 27)
What is it? A post-apocalyptic thriller, Aftermath follows a family trying to survive after a variety of plagues (meteors, earthquakes, massive storms, and a literal plague—plus supernatural creatures for good measure) wipe out most of the planet.
Why is it a guilty pleasure? See Van Helsing above for most of the rationale, but this time throw in the Anne Heche / James Tupper Men In Trees reunion that no one has been calling for.
# of episodes: 13
Debuts: Tuesday, Sept 27 at 10pm EST
Criminal Minds S12 (CBS – Sept 28)
Why is it a guilty pleasure? It can be hard for a long in the tooth criminal procedural to generate buzz heading into S12, so you have to wonder if the producers of Criminal Minds were secretly delighted when lead actor Thomas Gibson got into a kicking match that ultimately got him fired. Only time will tell whether the off-screen kerfuffle or new series regulars Aisha Tyler and Adam Rodriguez help increase the profile of the series. Either way, the series is suddenly much more talk-worthy.
# of episodes: 22
Returns: Wednesday, Sept 28 at 9pm EST
Full List of New and Returning Shows – September 2016
Sept 2: Narcos (Netflix – 3am EST)
Sept 5: Harley and the Davidsons (Discovery – 9pm EST): Six-hour scripted miniseries about the birth of the Harley-Davidson motorcycle brand will air across three consecutive nights this week. Michiel Huisman, Robert Aramayo, Gabe Luna, and Jessica Camacho star.
Sept 6:
From Dusk Til Dawn: The Series (El Rey – 9pm EST)
Atlanta (FX – Sept 6, 10pm EST)
Queen Sugar (OWN – Sept 6, 10pm EST)
StartUp (Crackle – Sept 6)
Sept 8: Better Things (FX – 10pm)
Sept 9:
One Mississippi (Amazon – 12am EST)
Quarry (Cinemax – 10pm EST)
Sept 11:
Son of Zorn (FOX – 8pm EST)
Masters of Sex (Showtime – 10pm EST)
Sept 14:
American Horror Story (FX – 10pm EST)
Blindspot (NBC – 10pm EST)
Documentary Now! (IFC – 10pm EST)
South Park (Comedy Central – 10pm EST)
Sept 16:
Z Nation (Syfy – 8pm EST)
Fleabag (Amazon – 12am EST)
High Maintenance (HBO – 11pm EST): The critically acclaimed web series about a Brooklyn pot dealer and his diverse group of clients moves to HBO for six new episodes.
Sept 19:
Gotham (FOX – 8pm EST)
The Big Bang Theory (CBS – 8pm EST)
Kevin Can Wait (CBS – 8:30pm EST): In his first regular sitcom role in nearly a decade, Kevin James (The King of Queens) stars as a former cop attempting to adjust to his new life in retirement with his wife (Erinn Hayes) and three children.
Lucifer (FOX – 9pm EST)
The Good Place (NBC – 10pm EST)
Sept 20:
NCIS (CBS – 8pm EST)
Brooklyn 99 (FOX – 8pm EST)
New Girl (Fox – 8:30pm EST)
Bull (CBS – 9pm EST): Michael Weatherly (NCIS) plays a slightly fictionalized version of the younger Dr. Phil McGraw who was an in-demand trial consultant before he was a daytime TV staple, helping defense attorneys analyze juries and witnesses.
Scream Queens (FOX – 9pm EST)
NCIS: Los Angeles (CBS – 10pm EST)
Marvel's Agents of S.H.I.E.L.D (ABC – 10pm EST)
This Is Us (NBC – 10pm EST)
Sept 21:
Lethal Weapon (FOX – 8pm EST)
The Goldbergs (ABC – 8pm EST)
Speechless (ABC – 8:30pm EST)
Empire (FOX – 9pm EST)
Law & Order: SVU (NBC – 9pm EST)
Modern Family (ABC – 9pm EST)
black-ish (ABC – 9:30pm EST)
Designated Survivor (ABC – 10pm EST)
Chicago PD (NBC – 10pm EST)
Sept 22:
Easy (Netflix – 3am EST): Anthology series from indie filmmaker Joe Swanberg focuses on a diverse group of Chicago residents, played by the likes of Hannibal Buress, Orlando Bloom, Malin Akerman, Jake Johnson, Marc Maron, Gugu Mbatha-Raw, Aya Cash, Dave Franco, Emily Ratajkowski, and more.
Superstore (NBC – 8pm EST)
Grey's Anatomy (ABC – 8pm EST)
Rosewood (FOX – 8pm EST)
Pitch (FOX – 9pm EST)
Notorious (ABC – 9pm EST)
Chicago Med (NBC – 9pm EST)
The Blacklist (NBC – 10pm EST)
How To Get Away With Murder (ABC – 10pm EST)
Sept 23:
Longmire (Netflix – 3am EST)
Transparent (Netflix – 3am EST)
McGyver (CBS – 8pm EST): This reboot of the classic action-adventure series stars Lucas Till as a much younger MacGyver, a problem solver who creates a secret organization within the federal government.
Last Man Standing (ABC – 8pm EST)
Dr. Ken (ABC – 8:30pm EST)
Hawaii Five-0 (CBS – 9pm EST)
The Exorcist (FOX – 9pm EST)
Blue Bloods (CBS – 10pm EST)
Van Helsing (Syfy – 10pm EST)
Sept 25:
Bob's Burgers (FOX – 7:30pm EST)
The Simpsons (FOX – 8pm EST)
Son of Zorn (FOX – 8:30pm EST – regular timeslot)
Once Upon A Time (ABC – 8pm EST)
Poldark (PBS – 8pm EST)
Secrets and Lies (ABC – 9pm EST)
Family Guy (FOX – 9pm EST)
Last Man On Earth (FOX – 9:30pm EST)
Quantico (ABC – 10pm EST)
Sept 27:
Channel Zero (Syfy – 9pm EST): This new horror anthology series comes from Nick Antosca and Max Landis. The six-episode first season, subtitled Candle Cove, is based on Kris Straub's online "creepypasta" of the same name about a disturbing childrens' television program from the 1980s.
Aftermath (Syfy – 10pm EST)
Sept 28:
Criminal Minds (CBS – 9pm EST)
Code Black (CBS – 10pm EST)
Younger (TVLand – 10pm EST)
Impastor (TVLand – 10:30pm EST)
Sept 30:
Crisis in Six Scenes (Amazon – 12am EST)
Marvel's Luke Cage (Netflix – 3am EST)
And that is it! Whew…
What's on your new and notable list? What returning favourite are you most excited for? Any guilty pleasures in the mix? Sound off below