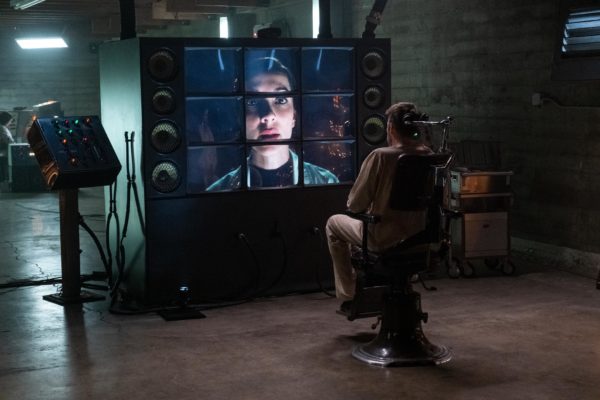 Each month Joe and Terry  discuss the new episode of Hulu and Blumhouse's Into The Dark series, alternating between our respective sites — queerhorrormovies.com and gaylydreadful.com.
This time around we're checking out the S2 July entry, "The Current Occupant."
Spoilers follow…
JOE
One step forward and two steps back, Terry. After last month's delightful Into The Dark entry, "Good Boy", we're firmly back into dreadfully bad territory with political conspiracy thriller "The Current Occupant."
We've had numerous conversations about the restrictions imposed on the production of this series – both time and money – and how they inevitably affect the resulting films. In most cases it can be said that the scope fits the scale, as the films usually have small(er) casts, single locations and eschew complicated FX. 
As a result, films tend to fall into one of three camps: 1) they are intimate, character-driven and contemplative ("All That We Destroy"); 2) they are ambitious to a fault and deliver mixed results ("Pooka Lives!" or even "Crawlers"); or 3) they are too simplistic or one-note to justify the 90 minute runtime ("Delivered").
"The Current Occupant", by brothers Julius (director) and Alston (writer) Ramsay, belongs firmly in the third category in that it is a single, simple premise that barely covers its first act. Normally in these reviews, we would dedicate a substantial chunk of the first entry to recapping the plot, but here there's barely more than the description provided by Blumhouse and Hulu: "a man with no memory comes to believe that he's the President of the United States and the subject of a diabolical political conspiracy." 
There's no real need to elaborate because that's what the entire episode boils down to: is Henry Cameron (Barry Watson) a President caught in a coup or is he a madman with delusions of grandeur? Alston Ramsay's script is content to go back and forth because the two for nearly 90 minutes, despite the fact that the conflict is A) not interesting from the get-go, B) never becomes more interesting and C) the audience has no investment in the outcome because Cameron is such a paper-thin character.
I have to say that this entry really tested my patience. I've seen – and mostly liked – Midnighters, the Ramsay brothers' 2017 film about a couple's efforts to cover up a hit and run that spirals out of control (ironically my review was that that film was trying to do too much! Guess they took my note too far here). 
In general I think that Julius has a good eye as a director and there are several arresting sequences in "The Current Occupant", namely Dr. Larson (Sonita Henry)'s experimental trial videos, which obviously evoke comparisons to A Clockwork Orange and Brazil. But there's simply not enough here to maintain our interest, particularly when literally every event is repeated at minimum three times. Trust us, Cameron, we, too, feel the endless ennui of the psychiatric ward because we're also stuck in this grimy, grey/white colour palette world. 
Oh Terry, I honestly have so little to say about this. I couldn't make the leap required to invest in Cameron's relationship with kindly Nurse Eliza (Kate Cobb) because it was too obvious that she was a hallucinatory figment. And while I'm sure that there are plenty of horror films set entirely in a hospital that play with the idea of what is real and what is imaginary, "The Current Occupant" never manages to get off the ground. This was a slog and a half and I legitimately despised the film by the end. This is a 0.5/5 for me.
I have a feeling you're in the same boat, but Terry did anything work for you in this? Were you ever surprised or intrigued by the so-called "reversals" such as when Cameron supposedly killed his female collaborator or realized that Eliza was actually dead? And did you believe for even an instant that the ending, set in the White House, was real? 
TERRY
It pains me when we give one of these episodes a bad review, Joe. If there's a series I want to see excel, it's a monthly horror show that gives chances to writers and directors. I hate that we keep seeing bad results, though, and honestly "The Current Occupant" might be the worst I've seen. 
Like a lot of the Into the Dark episodes, I was actually engaged in the first act. The progression was quick and snappy, as Henry goes from an amnesiac patient to seeing shadowy conspiracies in the dank hospital to one of the patients screaming, "It's you! It's you!" while a night nurse whispers further paranoia into his ear. It moves very quickly to him discovering his redacted hospital file that indicates he was the victim of an assassination attempt.
Then the narrative stalls. It just hits the wall, Joe. 
If there were a drinking game associated with our Into the Dark reviews, this is where the "chug!" would come into effect because, as we've mentioned before, this feels like a slight story stretched to 90 minutes. In "The Current Occupant" it feels particularly egregious because the first act would have made a fascinating short film. But when Cameron is "released" and sent to the psychiatric ward, the film lost me. Telling a story in a mental institution is a tricky balancing act: tell a story about mental illness without being exploitative. But I don't think any concern or care was put into this story, as we're given nothing but stereotypes of mental illness. A big man cradling a bear. Another believing himself to be some intergalactic emperor. It's pretty tasteless. 
The idea of a man believing himself to be president so much that he makes up a new reality where he actually is one, beset on all sides by shadowy organizations, has some resonant thematic potential, particularly now. We're kind of living in that insanity right now…except it's reality. I'm also drawn to the paranoid, sometimes political, thrillers of the 70s where the lines between paranoia and reality is blurred. I could tell that the Ramsay brothers were trying to replicate that, but the script really failed here. 
None of the "big reveals" surprised me, Joe. I knew pretty quickly that Eliza was a figment of his imagination. Well, I guess what surprised me is that I fully expected this to be a "man in a coma" nightmare scenario as he's working through something in order to wake up. I don't know if that cliche would have helped the story, but it would have potentially given it more thematic intent. As it is, "The Current Occupant" was a dud. 1/5 stars for me.