Weekly coverage of A Discovery of Witches concludes as Diana (Teresa Palmer) deals with Benjamin (Jacob Ifan) before hitting a hard reset on the Congregation.
Let's bitch it out…
Missed a Review?
Season 1 (Links to Hazel & Katniss & Harry & Starr podcast)
Plot:
Episode 3.07 of A Discovery of Witches is unofficially broken into two halves: the first half concerns Diana and company flying by helicopter to Poland to rescue Matthew (Matthew Goode). It's a bit frustrating: there's an entire calvary who storm in, but Diana winds up taking care of both Benjamin and Satu (Malin Bushka) herself.
Once the immediate threats to Matthew's safety have been taken care of, it's time for Diana to tackle the Congregation. She makes a very brief (and admittedly not very well argued) statement about the revelations contained within the Book of Life about the origins of the three species, then calls for a new order where magical species intermingle freely. The motion passes, despite Gerbert d'Aurillac (Trevor Eve)'s protests that she's threatening them with extinction.
Characters:
The first half of the episode is more traditionally exciting because that's where the bulk of the action and special effects lie, but sadly it fails to truly satisfy. That's in large part because Benjamin has been positioned as the Big Bad for the entire season, but he's killed relatively easily once Diana completes the 10th and final knot of the web, then hits him with an arrow composed of light. It's a touch anti-climatic.
Satu's fate would be more satisfying because A Discovery of Witches has built up her rivalry with Diana over the last three seasons, but the method by which Diana deals with the witch – binding her – feels extremely out of character for our heroine.
Does Satu deserve such a harsh punishment? Maybe…
Would Diana actually enact this on Satu considering her own history with the practice and how detrimental it was to her own development and identity? Unlikely.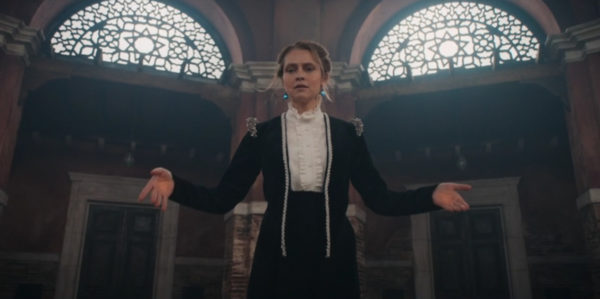 Stray Observations:
Real talk: I'm not sure Diana speech to the Congregation would have swayed me. She basically says they should do something without giving them much proof or arguing why it's truly important. If anything, the fact that it passes seems more like the other Congregation members seizing an opportunity to get rid of Gerbert (and stop his power-hungry tirades).
The discovery that all magical species have daemon DNA in them really drives a stake in my complaint that the series doesn't know what to do with its third – and least explored – species. In my defense, this revelation doesn't undo three seasons of characters like Agatha (Tanya Moodie), Nathan (Daniel Ezra) and Hamish (Greg McHugh) getting far less screen time or storylines compared to both witches and vampires.
Baldwin (Trystan Gravelle) gets some quick redemption when he allows Diana to take his place at the Congregation meeting, admitting that a lot of his actions have stemmed from his insecurity knowing that Philippe preferred Matthew. It's fiiiine, even if the character is still a bit shit.
Sidebar: Diana's clear delight in revealing to Gerbert that she's the blood sworn daughter of Philippe and that Baldwin gave her the de Clermont key is pretty enjoyable.
Less enjoyable: that even though Gerbert is outed as Benjamin's partner and Ysabeau (Lindsay Duncan) confronts him about killing Philippe…he doesn't get punished? Sure, Diana tells him that his day of reckoning will come, but the series ends with him getting away with all of this. It's a bit baffling.
Domenico (Gregg Chillin) gets a few badass moments and I've got to say: I wish the show had done more with Chillin because he's pretty great.
Quick round-up of where we leave everyone else: Gallowglass (Steven Cree) is finally free to go off and live his own life, dead gay de Clermont brother Hugh gets a plaque at Sept Tours, Aunt Sarah (Alex Kingston) begins to move on, and Phoebe (Adelle Leonce) Marcus (Edward Bluemel) get engaged <shrug> I was more excited for Miriam (Aiysha Hart) and Dr. Christopher Roberts (Ivanno Jeremiah) to get together to be honest.
Overall this third and final season suffered from too few episodes for the scope of the storytelling. A lot of this wound up feeling rushed, so while some of the emotional moments along the way landed (Matthew accepting Toby Regbo's Jack, Diana giving birth), more often than not the pieces were more successful than the whole (in hindsight the whole journey to New Orleans feels very shrug worthy because those great characters failed to play a compelling part in the narrative). Season three grade: B-
---
A Discovery of Witches has now concluded on Sky Max (UK) and on AMC and Shudder (in North America)