Weekly coverage of A Discovery of Witches continues as Benjamin (Jacob Ifan) faces off against Matthew (Matthew Goode) and Diana (Teresa Palmer) finally heals the Book of Life.
Let's bitch it out…
Missed a Review?
Season 1 (Links to Hazel & Katniss & Harry & Starr podcast)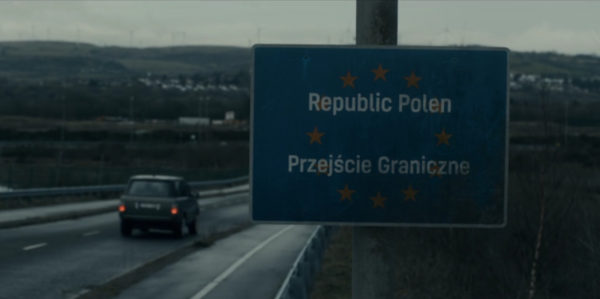 Plot:
Considering this is the penultimate episode of the series, A Discovery of Witches is principally concerned with advancing its major storylines towards a conclusion. The focus is primarily on Diana acquiring Ashmole and setting up the showdown between Diana and Benjamin in next week's finale.
That means Matthew takes a solo trip to the SS camp where Philippe was tortured and killed so that he can face down Benjamin by himself. This initially seems like a very dumb idea, but then actually goes quite well…until Satu (Malin Bushka) shows up to put the whammy on him. These scenes are all <fine> (as I've said before, the vampire FX is visually a little bland) but I liked how one part of the fight is a static shot of an open door as Matthew and Benjamin fight offscreen. It made it feel a little different.
Of course the other significant development of note is Diana's acquisition of Ashmole from the Oxford library. This whole sequence is extremely tense as we wait for Knox, the vampires or Satu to attack. It's all bait and switch, though; Diana successful repairs the book and then absorbs it, which is the unexpected part and could spell some very interesting developments.
What does literally internalizing the Book of Life do to a person? We'll find out!
Characters:
Aside from Matthew and Benjamin's fight, the most thrilling moment of violence in the episode is Sarah (Alex Kingston) getting her revenge on Peter Knox (Owen Teale) for the death of Aunt Em in last season's finale. It's a suitably compelling sequence: Sarah draws on more power than ever before to call upon the wind to scatter Peter to the four corners of the globe. Considering how maniacal Knox had become, this is a fitting end for the increasingly disheveled character and it feels like appropriate vengeance to have Sarah deliver the killing blow. This also removes a key figure from the board so that next week's finale has more space to focus on Benjamin, Satu and Gerbert d'Aurillac (Trevor Eve).
Stray Observations:
Speaking of the vampire member of the Congregation, Gerbert threatens to remove Agatha (Tanya Moodie) as the daemon representative in order to shore up his own power. It's been interesting watching Knox drift to the margins over the course of S03 as Gerbert becomes a main villain. In some ways the increased focus on Gerbert feels as though it's coming a little too late to have the desired impact, but this was always going to be an issue with the shortened episode order.
One of my fave moments is when Domenico (Gregg Chillin) more or less calls Baldwin (Trystan Gravelle) a dumb shit and orders him to "stop letting Gerbert manipulate you." Scenes like this make me wish that Chillin had gotten more to do on the series.
It's good to see Gallowglass (Steven Cree) return to assist Diana, even if it does slightly neuter the impact of not having him at the baptism last week. Still, the moment when he and Diana hug outside of the Oxford library is lovely.
So glad to know we're still doing this "turn Phoebe (Adelle Leonce) into a vampire" subplot. I enjoyed how Marcus (Edward Bluemel) literally has to sit her down to ensure she understands the implications of starting a war with the Congregation. "No, I'll be gone a loooooooong time."
---
A Discovery of Witches concludes next Friday on Sky Max (UK) and next Saturday on AMC and Shudder (in North America)