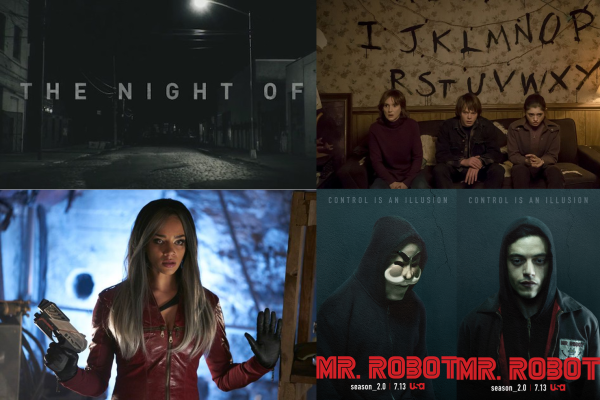 July is no June (thank heavens), but there's still a choice selection of new and returning shows vying for your precious eyeball time as we head into the heart of the summer.
Let's bitch it out…
There's a smattering of new and returning series to contend with as the summer rolls on, including the return of science fiction favourites like Killjoys and Dark Matter, perennial law series Suits, several comedies (many featuring man children at the fore) and a few meaty cable dramas, including the wrap-up Looking film.
As always, we're watching the shows that are marked with a **. Let's dig in!
July 1
Marcella S1 (Netflix)**
What is it? Anna Friel stars as Marcella Backland, a London detective whose personal and professional life is at a breaking point.  She left the Metropolitan Police for the sake of her family, only to have her husband leave her. When she returns to the murder squad, she finds herself investigating a case that seems disturbingly familiar.
Why should you care? According to Metacritic, the UK production is the first English-language series from Hans Rosenfeldt, creator of the original Swedish version of The Bridge. When the series debuted Friel was praised for her performance (as was her character's collection of knitwear), though there are also some typical cop clichés.
# of episodes: 8
Debuts: All episodes are available Friday, July 1 at 3am EST
Marco Polo S2 (Netflix)
Where did we leave off? According to Netflix's press release: Marco Polo's epic adventure and extraordinary relationship with Kublai Khan continues – with the Song Empire in ruin and the Yuan Dynasty on the rise. Unrest brews in South China, driven by Song Loyalists who resist allegiance to the Mongol Khan.
Why should you care? Ummm…you watched S1? The first season drew mixed reviews and historical action series have a limited audience at the best of times. But hey, Michelle Yeoh is joining the cast!
# of episodes: 10
Returns: Friday, July 1 at 3am PST
Killjoys S2 (Space / Syfy)**
Where did we leave off? The tale of three bounty hunters (a kick-ass babe at the lead, two brothers with mild family issues as back-up), the S1 finale of this Canadian sci-fi series blew up its central premise with more cliffhangers than it could handle. It should be interesting to see how everything gets resolved, particularly the drama around Section 17.
Why should you care? Killjoys proved far more fun than it had any right to be. The team dynamic (and chemistry among the core cast) sells the fun, feisty procedural adventures and the plotting is reminiscent of the early seasons of creator Michelle Lovretta's Lost Girl. Plus, don't you want to be able to claim you knew lead actress Hannah John-Kamen before she explodes as the female protagonist in the film adaptation of Ready Player One next year?
# of episodes: 10
Returns: Friday, July 1 at 9pm EST
Dark Matter S2 (Space / Syfy)**
Where did we leave off? Six crew members woke up on a deserted space craft with no memory of their old lives and discovered pretty quickly that they weren't the nicest people (they're actually all criminals). It wasn't until the finale that the identity of the individual responsible for their amnesia was revealed, to shocking results.
Why should you care? Like the show it succeeds (Killjoys), Dark Matter was much more enjoyable than expected. The amnesia plotline may have dragged on a little too long, but the resolution ended up leading into a pretty solid cliffhanger that should introduce loads of conflict into the second season.
# of episodes: 13
Returns: Friday, Jult 1 at 10pm EST
————
July 6
Tyrant S3 (FX)
Where did we leave off? With President Jamal shot by his daughter-in-law, bland protagonist / brother Barry took control of Abuddin. His big plan: start a free election, which is not without controversy, particularly given the unsolicited presence of the UN in the form of General William Cogswell (Chris Noth).
Why should you care? This is one of those shows that surprise you with its tenacity; who would have thought that Tyrant would live to see a third season?! Perhaps the presence of Noth will help draw more eyeballs?
# of episodes: 10
Returns: Wednesday, July 6 at 10pm EST
————
July 10
The Night Of S1 (HBO)**
What is it? An HBO limited series created by Steven Zaillian and Richard Price. The logline for The Night Of reads as follows: After a night of partying with a female stranger, a man wakes up to find her stabbed to death and is charged with her murder.
Why should you care? Zaillian is a much more prolific writer than director, but when he gets behind the camera, he produces masterpieces like All The King's Men (2008) and Searching For Bobby Fischer (1993). He directs all eight episodes of The Night Of, and the trailer above is a clear demonstration of his mastery of tone and content.
# of episodes: 8
Debuts: Sunday, July 10th at 9pm EST
————
July 12
Difficult People S2 (Hulu)
What is it? As best friends living in New York City, Julie Klausner and Billy Eichner's typical, irreverent behavior lands them in some very awkward situations – mostly because they hate people and are both complete narcissists.
Why should you care? It doesn't appear that either Julie or Billy have dialed back their game, so if S1 wasn't your cup of tea, it's doubtful that S2 will appeal to you. Tina Fey, Nathan Lane, Julianne Moore, Joel McHale, Fred Armisen, John Mulaney and more do swing by for cameos, however.
# of episodes: 10
Returns: Tuesday, July 12 at 12pm EST (2 episodes debut; 1 episode follows each week)
————
July 13
Suits S6 (USA)
Where did we leave off? After signing a plea deal to spare his colleagues at Pearson Specter Litt, Mike is off to prison.
Why should you care? It's six seasons in – at this point you're either all in or you're not watching. Of note for fans: Erik Palladino, Malcolm Jamal Warner, and Paul Schulze join the cast.
# of episodes: 16 (likely split in two half-seasons)
Returns: Wednesday, July 13 at 9pm EST
The A Word S1 (Sundance)
What is it? Per the BBC, from whence this hails: The Hughes family work and love and fight like every other family. Then their youngest son is diagnosed with autism and they don't feel like every other family anymore.
Why should you care? This six-episode series is an adaptation of the Israeli series Yellow Peppers and features (like so many UK series) a great cast, including Grantchester's Morven Christie and the 10th Doctor himself, Christopher Eccleston.
# of episodes: 6
Debuts: Wednesday, July 13 at 10pm EST
Mr. Robot S2 (USA)**
Where did we leave off? Following the events of Elliot and fsociety's hack on multi-national company Evil Corp, the second season will explore the consequences of the attack, as well as the illusion of control.
Why should you care? This is our most anticipated returning series of the summer (it came in at #2 on the last year's 'Best Of TV' Bitch Awards) so we're pretty excited to see where this cinematic, visionary series goes in S2. Just to stoke the fires, check out this random assortment of unusual new additions joining the cast: Craig Robinson, Grace Gummer, Sandrine Holt, and (whaaa?) Joey Bada$$
# of episodes: 10
Returns: Wednesday, July 13 at 10pm EST
————
July 15
Stranger Things S1 (Netflix)**
What is it? The latest "all at once" series to debut on Netflix is an 1980s-inspired supernatural thriller with strong Spielberg-esque echoes and a disheveled looking Winona Ryder as the mother of a missing boy who may or may not have been abducted by aliens.
Why should you care? Netflix hasn't really dipped its toes into the supernatural genre outside of Hemlock Grove (of which the less is said the better), so it's encouraging to see something a little different. Plus: Winona's first major role in years and a nostalgic setting.
# of episodes: 8
Debuts: Friday, July 15 at 3am EST
————
July 17
Power S3 (STARZ)
Where did we leave off? The series follows James St. Patrick, nicknamed "Ghost," owner of a popular New York City nightclub and a major player in the illegal drug network. S2 ended with Ghost stabs and lights recurring villain Kanan (50 Cent) on fire, but the man escaped to seek revenge, which will presumably drive S3.
Why should you care? This is one of those series that flies under the radar outside of its fanbase (most know it solely because it was co-created by 50 Cent). There weren't a ton of reviews for S2, but those who did check it out felt the sophomore season was much stronger than its first, so perhaps we're looking at an upward trajectory?
# of episodes: 10
Returns: Sunday July 17 at 9pm EST
Ballers S2 (HBO)
Where did we leave off? Dwayne Johnson stars as Spencer Strasmore, a retired NFL player turned financial manage in this sports version of Entourage. The first season mostly focused on Spencer and Joe's (Rob Coddry) friendship at the financial firm and attempts to secure Vernon, a religious NFL player, a great contract, which is what we left off seeing them celebrate.
Why should you care? Meh? As someone who isn't fond of Coddry, sports or bros & boobs antics, this isn't exactly our show. Most of the reviews for S1 focused on Johnson's considerable charm, which seems like the main attraction.
# of episodes: 10
Returns: Sunday, July 17 at 10pm EST
Vice Principals S1 (HBO)**
What is it? Danny McBride and Walton Goggins star as rival (idiot) vice principals who compete for the top job at their high school after the principal (Bill Murray) announces his retirement.
Why should you care? This could probably go either way, but the trailer actually looks dumb/silly and that could be just what the doctor ordered at the height of summer. Seeing Goggins play straight-up comedy is also a nice change of pace after a career playing criminal meth addicts. Oh yeah, Busy Philipps and Shea Whigham also star. Plus HBO is confident enough in the show to order S2 already (not that that means anything for HBO anymore!)
# of episodes: 10
Debuts: Sunday, July 17 at 10:30pm EST
————
July 18
Six S1 (History)
What is it? The series is set around the mission of the U.S. Navy's SEAL Team Six as their mission in Afghanistan goes awry. Stars Barry Sloane and Walton Goggins (he's everywhere!)
Why should you care? Not a reason to watch, but a fun fact: Joe Manganiello was originally cast as Rip Taggart (Goggins' role) but left the series in April 2016 "due to a "manageable" preexisting health issue."
# of episodes: 8
Debuts: Monday, July 18 at 10pm EST
————
July 19
Shooter S1 (USA)
What is it? An adaptation of the film of the same name. Ryan Philippe subs in for Marky Mark as former Marine sniper Bob Lee Swagger, who comes out of exile to help prevent an attempt on the president's life only to get caught in a major conspiracy, in this adaptation of Stephen Hunter's novel Point of Impact
Why should you care? USA's summer of reinvention continues as the cable network debuts arguably its most accessible series, which unfortunately also looks incredibly derivative. Still, Philippe remains likeable and the subject matter has a Jack Reacher-esque vibe to it that may entice viewers to tag along.
# of episodes: 10
Debuts: Tuesday, July 19 at 10pm EST
————
July 22
BoJack Horseman S3 (Netflix)
Where did we leave off? BoJack Horseman (voiced by Will Arnett) is the washed-up star of the 1990s sitcom Horsin' Around and lives a melancholy life of a faded Hollywood celebrity. In the S2 finale, BoJack learns from Princess Carolyn (voiced by Amy Sedaris) that the Secretariat film that has dominated the season was finished without him while he was out of town.
Why should you care? This animated series is the smartest, funniest comedy about depression this side of You're The Worst. It's also a pretty brilliant satire of Hollywood, celebrity culture and the film industry.
# of episodes: 13
Debuts: All episodes debut Friday, July 22 at 3am EST
————
July 23
Looking: The Movie (HBO)**
Where did we leave off? Lead character / walking disaster Patrick had just moved in with his narcissist, likely cheating boyfriend / boss Kevin, but in a moment of panic Patrick escaped their concrete condo to track down his one true love, barber Ritchie. We're in 

no way

biased about the outcome of this particular romantic triangle.
Why should you care? HBO cancelled Looking after two low-rated but beloved seasons amidst rumours that a feature would wrap-up the loose ends. Deadwood fans may bristle that Looking managed to pull of a feat the much celebrated Western never did, but hopefully the film will find some kind of closure for the central trio and expose Kevin for the terrible asshole we all know he really is.
Debuts / Returns: Saturday, July 23 at 10pm EST
————
July 24
Survivor's Remorse S3 (STARZ)
Where did we leave off? The plot centers around the lives of Cam Calloway (Jessie T. Usher) and his family after he signs a pro basketball contract and moves his family to Atlanta
Why should you care? Full confession: we'd never heard of this series before compiling this list, but the series is produced by LeBron James, so perhaps it's noteworthy for that?
Debuts / Returns: Sunday, July 24 at 10pm EST (2 episode premiere, 1 ep each week afterwards)
Surprisingly enough that where the list stops for July. We'll be back in August for the calm before the Fall TV storm. In the interim, which shows are you planning to watch this July?