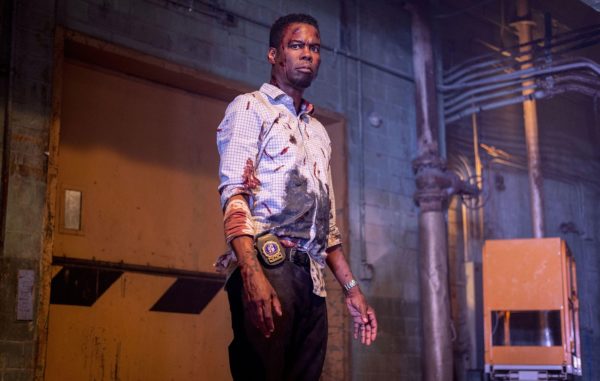 How do you solve a problem like Jigsaw? Following the disastrous 2017 attempt to reboot the Saw franchise, writers Josh Stolberg and Peter Goldfinger make a second attempt to restart the engine of the longest running horror franchise of the 21st century.
Spiral: From The Book of Saw is an appropriate title, given that the ninth film in the Saw series borrows a few pages from its predecessors, but is simultaneously content to do its own thing.
Make no mistake: this is a Saw film through and through. One need only look at the return of Saw II, III and IV director Darren Lynn Bousman or the narrative structure, which features a bevy of corrupt characters (in this case police officers) forced to atone for their perceived sins at the hands of a megalomaniac who hides behind theatrical pig costumes and award-worthy marionettes. for evidence.
And yet, it is the addition of instantly recognizable A-list talent like Samuel L. Jackson and Chris Rock (playing father and son police officers Marcus and Zeke Banks) to know that this isn't your grandmother's shot-in-Toronto-with-Canadian-character-actors Saw*.
*To be clear: Spiral – like all Saw films – was *very clearly* shot in Toronto and features many Canadian character actors like Lost Girl's Zoie Palmer, Letterkenny's Dan Petronijevic, Earth: Final Conflict's Richard Zeppieri and Warehouse 13's Genelle Williams).
What Rock and Jackson bring to Spiral is a level of prestige and curiosity that has been missing from the Hoffman-heavy later outings. Rock is a noted enthusiast of both horror and, more specifically, this franchise and Jackson is obviously no stranger to the genre, so it's not that unusual a career move for either actor. Admittedly there's something exciting about the idea of A-list talent coming onboard a franchise that hasn't seen its best days in more than a decade (in this house we stan Saw VI).
The addition of Rock and Jackson also illustrates that this isn't merely the "cash grab on a dormant IP" that Jigsaw so transparently was. Whether hardcore Saw enthusiasts will embrace Spiral or general audiences starved for a star-driven horror property will embrace the soft reboot, however, is another matter altogether.
The move to wider accessibility is evident in the general premise, namely that Spiral is a standalone story. The film finds Detective Zeke Banks (Rock) on the wisecracking hunt to find a copycat/disciple of the infamous Jigsaw killer (Tobin Bell, glimpsed briefly in a photograph) as police officers, including Zeke's new partner Detective William Schenk (Max Minghella), Detective Fitch (Zeppieri), and Captain Garza (Marisol Nichols), are targeted for a series of convoluted and grisly traps tangentially aligned with their various crimes.
While the film does fit into the overall chronology of the Saw franchise, it doesn't require extensive knowledge of the previous eight films, eschewing most of the series' twisty time shenanigans in favour of a somewhat conventional crime procedural. Do not, for example, expect a jaw dropping revelation like Bousman's previous entries Saw III and Saw IV, which were revealed to be happening concurrently).
No, Spiral is mostly straightforward as far as Saw narratives go – a fact that may prove detrimental to its success with fans of the long running series, who will likely find the reveal/resolution underwhelming considering what they have seen in previous entries.
And therein lies the issue.
In many ways, Spiral not only plays like an attempted franchise reboot rather than a latter day Saw entry; in many ways, it feels like it isn't necessarily intended for the series' cultish fanbase. If anything, Spiral has a slight diluted vibe, as though the film has been watered down to appeal more broadly to genre fans or – taking it one step further – aficionados of Rock and Jackson's respective filmographies.
This is not to say that the film isn't gory and graphic; there are plenty of Grand Guignol traps that inflict exquisite suffering on several characters (one trap may even rank among the most painful the franchise has ever seen). But there are fewer of them than many of the older entries and more often than not what is shown is tamer than previous films. Spiral is not for the faint of heart, but for horror enthusiasts, the tired, played-out moniker of Torture Porn is less applicable here than the heyday of, say, Saw V – VII.
The question is whether this slightly watered down Saw film will A) bring in audiences who were lukewarm on the series in the first place, B) recruit those who fell off during the glut of sequels, or C) offend hardcore purists who still regularly discuss Jigsaw's incredible scheduling and work/life balance (I see you, Sawvivors, and you are loved).
The answer is: yes…most likely.
The presence of Rock and Jackson will draw in curious lookie loos, while the questionable morality, icky body mutilation and classic Saw visual signifiers should satisfy fans of the franchise. With a record tenth entry already being prepped, there's clearly a desire from Lionsgate to keep the games afoot, and Spiral lends itself well to a new series of films featuring sorta bad people in power being punished by a narcissistic avenger.
The Bottom Line: Considering the hype, Spiral isn't the slam dunk audiences may have hoped for, but at least it's not a creative failure like Jigsaw.
Spiral is doing exactly as much as it needs to in order to resurrect the franchise – no more, no less. In that regard, it's a success.
3.5/5
---
Spiral: From the Book of Saw is in theatres May 14