Encounters with mermaids, fallen angels, and other strange beasts drive broken people to desperate acts in Monsterland, an anthology series based on the collection of stories from Nathan Ballingrud's "North American Lake Monsters".

1.01 "Port Fourchon, LA": A down and out waitress questions her choices
JOE
Well Terry, here we are with a new series to chat about. I'll confess straight away that I purposefully stayed away from trailers so I didn't exactly know what to expect, aside from the fact that it was an anthology series.
I can't say that I'm hooked after this first episode, but I am very intrigued. Monsterland is far darker and more grim than I anticipated. Compared to Hulu's other anthology series, Into The Dark, this new series appears far more willing to "go there" with its horrors, despite being more grounded in reality.
One thing I really appreciated about "Port Fourchon, LA" is the way it subverts expectations. After opening on Alex (Jonathan Tucker, looking pervy with that mustache) drowning a teenage girl, we immediately fear the worst when he shows up at Toni (Kaitlyn Dever)'s diner. So much of their interactions anticipate a traditional serial killer horror formula, but of course the real horror is the grim reality of Toni's life as a single mother struggling with her out of control daughter, Jack. 
All of the scenes involving Jack are…complicated. The little girl clearly has behavioural problems (she's introduced hitting Toni in the head with her toys and she has a bad habit of biting and screaming). Then we find out about Toni's complicated pregnancy, as well as a negative bath incident involving Jack's father and things begin to snap into place. It's a stark critique about the struggles of being a single mother in America; Toni's financial situation is dire enough that she justifies having a conversation with a creepy stranger just for $100. And that's before Alex's very pliable skin starts to factor into the storytelling.
Terry, what did you think about the reveal of who – or what – Alex is and whether that hits differently for queer audiences? We know Dever will return in subsequent episodes, so it's inevitable that we'll encounter Mr. Grey right? And how devastating is the final parking lot scene when you realize what Toni plans to do?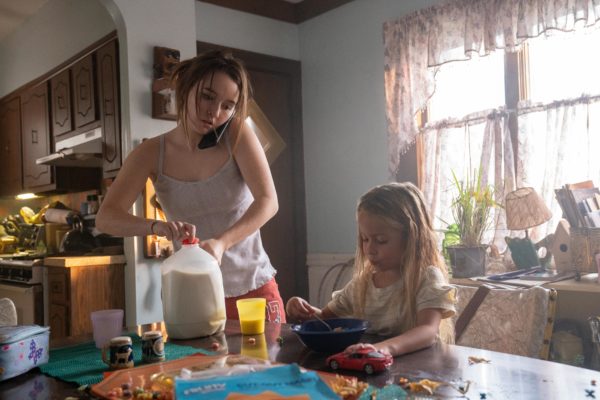 TERRY
It looks like you and are opposites right now, Joe, because I was immediately hooked by "Port Fourchon, LA" in a way I was not expecting. 
I haven't read the source material Monsterland is based on, but this particular story is an adaptation of "You Go Where It Takes You" from Nathan Balingrud's horror anthology North American Lake Monsters: Stories. I should have realized that we weren't going to get just a standard story but that it would be dripping with existential dread since he also gave us the inspiration for last year's Wounds. His stories seem to deal with down-on-their-luck protagonists who are forced to deal with not only supernatural monsters, but also the real life monstrosities of humanity. Good god does "Port Fourchon, LA" explore that in depressing detail. 
On the supernatural side, I have to admit I wasn't quite sure how to take Alex's striking reveal as he dons the skin of a woman as a way of explaining himself to Toni. Unintentionally, it could almost feed into the "killer man in woman's clothing" transphobic trope or be seen as such. But like the rest of the narrative, it feels very grounded and authentic in the scope of the story…particularly as the narrative twists expectations and paints Alex and Toni as the same: both are running from a past mistake or a bad situation.
What I appreciated most, though, is that the conflict at the heart of the story centers around Toni and her daughter. The entirety of their interactions broke my heart and two scenes in particular hit me in the gut as a one-two punch. The first is when Toni's babysitter drops Jack off at the restaurant and tells Toni she can't watch Jack anymore. Toni, at her wits end, just lets out this heart-wrenching scream of frustration and anger. It's followed up by the scene in which Toni speaks of her inner fears and says, "I think [Jack] knows nobody wants her. Not me. Nor her daddy. She's mad at the whole world for making her get born." It hit hard because it felt authentic in the same way I feel for Amelia and her son Samuel in The Babadook–a film that feels like a companion piece to this episode. 
It also ties into the enigmatic Mr. Grey, who I feel is so mysterious and evil that we'll for sure see later. Alex got into the business of working with Mr. Grey and is now literally on the run from him and in this way I found the idea of Mr. Grey to be prophetic for the situation Toni ultimately finds herself in. You mention the final parking lot scene and I was agog (and slightly aghast) that the story was going there. You don't often see the willingness to really peel back and lay bare these kinds of parental fears in such a brazen way. But like Alex's phantom Mr. Grey, the results of her actions will continue chasing Toni, no matter where she goes. It's this synergy between the real life consequences and the supernatural bogeyman that really sold this episode for me…while breaking my heart. 
So, for me Joe, this established the litmus test for the whole season. One of the things that usually bothers me about anthologies is that they live and die on the strength of the narrative because there's typically not a lot of time spent on character development. And when a show comes out with an episode this strong, I'm always afraid that the follow-up won't be anywhere near the quality.
Which is a perfect segue to talk about Episode 2 "Eugene, Oregon."
1.02 "Eugene, Oregon.": A lonely teen encounters an unwelcome guest 
TERRY
Joe, I might be too close to the subject matter to get entertainment from "Eugene, Oregon," an episode that details the downward spiral of a gamer who just loves his mother. The narrative desperately wants us to feel bad for Nick (Charlie Tahan) as it explores his depressing situation. His father left him and his mother when he was five. Now his mother is sick and bedridden, making Nick not only the sole provider but also under a lot of stress. Nick sums up his life as "what if I just got shit luck?" but that changes when a shadow appears in the corner of his bedroom one night. At first, he tries to communicate with it, but then he falls down a Totally-Not-Reddit rabbit hole into an online chatroom called SHADOWWATCH that has been tracking these shadowy beings across the country. 
Most of the narrative plays out in Nick's bedroom as he falls deeper and deeper into the conspiracy theory-laden room with its trio of internet stereotypes. There's the hyper aggressive dude (Ari Barkan) who calls Nick a pussy and the Girl Gamer (Nadia Alexander) who seems almost attainable and West (Ben Rappaport), the leader of the group who knows how to manipulate and manage everyone. When Nick complains about his bad luck, West tells him, "You think the pain is random, but it's not. It's strategic. Organized by the shadows." From here, the narrative takes an obvious metaphor of contrasting the shadows with the certainty that someone is responsible for your pain…and you're going to make them pay. 
While "Eugene, Oregon" does some interesting visual things like imagining the chat room as a physical place, and the shadows are creepily done, I have experienced second hand the horrors these types of gamers can inflict on others. This is GamerGate without the name; a collection of alt-right people taking out their bad situations on some nebulous concept or person. In some ways, I'd say that it's trying to humanize the person that can find themselves brainwashed into believing some QAnon or GamerGate conspiracies. We still haven't learned from GamerGate and right now I'm having a hard time finding sympathy for people who fall into that cause (or similar ones). By the time we get to the "It's a war and in a fucking war you exterminate the vermin on the other side," I was ready to throw my laptop on the floor. 
But maybe I'm too close to the subject. This is partly why I left Gaming Twitter and reinvented myself in the horror movie sphere. So I'm curious how you felt about this episode? As a non-gamer I'm curious how this story sat with you, particularly as you said the first episode didn't completely hook you…was this one any different? With two episodes down, I'm picking up a narrative thread that takes supernatural monsters and uses them as a thematic device to explore real world horrors. So I'm curious what you thought of "Eugene, Oregon"'s use of shadows as a scapegoat? 
JOE
I should probably clarify that the lack of hook had more to do with my apprehensiveness about anthologies and the fear that, as you suggested, everything lives and dies on plot and twists (as opposed to characters). I was coming off Hulu's other anthology Books of Blood, which falls right into that trap, so perhaps I was a touch sensitive.
I agree with you, though, that "Eugene, Oregon" isn't quite as strong as our opener. There's certainly a lot of empathy for Nick, whose situation is so pitiful that you can't help but sympathize with his terrible situation…initially. He's a high school drop-out whose presence on campus is flagged by security; he's fired from his job after over sleeping and then, of course, there's the care taking that has fallen on him in the wake of his mother's stroke. 
That opening scene, when Nick's prescription is refused because his prescription is no longer covered by insurance, may be an obvious way to garner sympathy for him, but it's also – like the first episode – a very stark reality for a lot of folks. Living in Canada occasionally makes me feel superior to the terrible state of the US health care system and this episode in particular feels like an indictment of what happens when the burden of just living requires our most vulnerable to sacrifice their basic human needs.
Of course, Nick isn't the easiest character to like. He's prone to violent outbursts that make his situation worse, to such an exacerbating extent that you wish someone would just tell him to shut his mouth. But I really like that in its first two episodes, Monsterland isn't afraid to give us complicated, troubled and not always likeable characters. This feels true to life and, honestly, I'm not used to seeing the realities of being poor so readily depicted on mainstream TV.
Having said that, the further "Eugene, Oregon" goes, the more uncomfortable it gets. It's pretty obvious that Nick is being manipulated, and even groomed, by his new SHADOWWATCH "friends" so the implications of his "war" and the ambiguous (but in reality pretty clear) ending where Nick shoots his mother after mistaking her for the shadow feels a little too pat. Overall, though, I appreciated how poverty intersected with toxic gaming culture. 
If you saw too many uncomfortable parallels in your own experiences, Terry, I'd argue that's a good thing. It means Monsterland is doing its job.
1.03 "New Orleans, LA.": A New Orleans socialite wrestles with her past.
JOE 
Hmmm, is this a case of diminishing returns, Terry? I'm getting concerned because I've enjoyed each subsequent episode less than the one before and that's a worrying trend.
I can't help but wonder if part of the reason that this episode didn't work for me is because I was just SO EXCITED to see Nicole Beharie in something again. I was a big fan of hers during Sleepy Hollow S1 (before that show fucked over every POC in the cast) and her small, but memorable role in Black Mirror was a nice amuse bouche (I haven't seen Miss Juneteenth, but hope to catch it before I make my "Best Of" end of year lists). All this to say, I'm a fan and I was glad to see Beharie again.
Sadly, aside from some troubling and morally controversial commentary about the lengths that financially impoverished folks will go to to protect their own wealth, I didn't find a lot of meat in "New Orleans, LA". I was fascinated by the reveal that Beharie's Annie (consciously or unconsciously) knew and buried the truth that her rich, powerful doctor husband Joe (Hamish Linklater) was sexually abusing 40+ children, including her own son George (Marquis Rodriguez). We don't often see this angle in tales of sexual abuse; usually the focus is on the victims or the trial, not the spouse caught in the crossfire. I'm saddened that "New Orleans, LA" only offers a surface level consideration of this in favour of some light – and frankly rote – demon scares.
And really, that's my biggest complaint about the episode: its hamfisted use of a metaphorical jazz musician as the physical manifestation of Annie's knowledge and guilt. Like you, I enjoyed the creative way that episode two visualized the chat room conversations between Nick and the SHADOWGATE folks. This, on the other, lacks subtlety and, more significantly, it eats up too much screen time. I didn't clock it, but it feels like half of the episode is simply Annie running around her empty mansion, screaming as the windows and doors are blown out. 
There's a juicy story to be told here, but this feels undercooked and light on actual content. Chalk up another underwhelming role for Beharie (what does this woman have to do to get a great part?!)
Terry, what did you think of this one? Were you satisfied with how the production used its New Orleans location? And were you intrigued when Toni (Dever), now going by the name Jennifer, showed up at the party in a brief cameo? 
TERRY
One thing I've noticed over the last three episodes, Joe, is just how good the acting is, particularly in subtle moments. Kaitlyn Dever gave Toni such pathos, especially in the quiet moments. And Charlie Tahan is a consistently under-discussed actor, but he brought emotion to a role that was very one note. This is a trend that continues here, particularly with Marquis Rodriguez's George. There's this moment at the party when George doesn't want to spend the night at the house and actively shies away from Joe that felt very authentic and upsetting. He gives George a nervous energy that feels completely in keeping with the revelations that come later. It's just such a shame that the story introduces an aspect that, like you said, is not typically explored, but then doesn't do anything with it other than treat it as a surprise. 
So far, the only episode I feel that really uses its location to its fullest is "Port Fourchon, LA" because it really gave us a feel for the desperation and a sense of place. "Eugene, Oregon" could have been anywhere…especially since most of it took place online or in Nick's bedroom. Here, I think Mardi Gras and its accoutrements are used well in the opening and there's some iconography of the South, including the fabulous mansion Annie lives in, but overall it just doesn't really offer the same sense of location that "Port Fourchon, LA" gave us. 
But it did give us that intriguing cameo you mentioned above. When Toni shows up under the name Jennifer, I actually sat up in my chair, thinking that this might establish a through line for the show. I'm hopeful we'll see more of her character and, like we talked about in the first episode, it might lead us to meeting the mysterious Mr. Grey. Here's hoping. 
I don't know, Joe. This is my least favorite episode up until this point and the first one that I think falls flat, which, given the acting talent on display, is a shame. I don't really have a lot to say about this, but oh boy…let's dig into Episode 4…
1.04 "New York, NY": 
TERRY
They can't all be winners, Joe, but even the ones above were interesting to watch for me, even if they didn't necessarily work. "New York, NY," though…I mean, they say it's a helluva town but..well. I guess it's a Hell of a town here, too. Ba dum tss!
"New York, NY" gives us Stanley Price – played by the wonderful Bill Camp (Howard Salmon in The Outsider) – and Stan has a problem. Partly it's that his name is a bit too on the Satanic nose, but mostly it's because he's the CEO of a corporation that is dumping thousands of gallons of oil into the environment. Oh and he lied about the damage. 
Now he's gearing up to testify in front of Congress. His assistant Josh (Michael Hsu Rosen)  rushes around trying to fix the publicity nightmare Stan has created for himself and his company while also dodging reporters who want Josh to be on the "right side of history." 
At a church publicity event, the non-believing Stan eats a wafer (better to cover all the bases) and then starts having weird dreams, framed as The Last Supper while "Lacrimosa (Requiem)" plays, in case you weren't getting the meaning. He ultimately devours the hand of Jesus (?) while people chant at him…including a Trump lookalike? From here it kind of turns into a male version of Rosemary's Baby, I suppose, as something grows within Stan's belly. 
And then it gets weird. 
I don't know about this one, Joe. Maybe it's because I'm not up on my religious iconography but while a CEO giving birth to a giant crow is intriguing on paper, it just didn't work for me here. I wasn't quite sure who the main character was supposed to be, as the narrative splits its perspective between Stan and Josh. While Stan is ostensibly the lead, "New York, NY" interjects a moral quandary for Josh and that's where I think a lot of the drama comes from. Josh stays at Stan's penthouse when Stan drinks himself silly and genuinely seems to care for the man more than his role as PR/Assistant would normally dictate. But we barely get to know anything about Josh or his belief system outside of one thematically important conversation where Stan tells him, "You remind me of me 30 years ago." He explains to Josh that he wanted to take over the world. "And I did. You will, too." 
But this conversation is as on-the-nose and unsubtle as naming the CEO Stan. That lack of subtlety hurts this episode, too, when compared to the previous three because, no matter my opinions on how successful they were, they all at least attacked their material with some grace. 
So over to you, Joe. What did you think of this weird crow baby take on The Exorcist of Rosemary's Baby? Did any of the religious iconography exploration work for you or were you as in the dark as I was? And can we talk about how the episode buried Josh's queerness until the final scene? 
JOE
Huh. You say crow, but I saw a pelican! Now I don't know what to believe.
As an agnostic, I'm often a bit of a luddite when it comes to religious elements in horror. So I get the Last Supper tableaux, but I don't know if I'm missing the nuance (though, judging from your suggestion that this episode is lacking subtlety, I don't think I did).
This episode, like "New Orleans, LA", didn't quite hit the mark for me. In part because I don't love possession stories at the best of times, and in part because Stan's descent into madness, as he preaches fire and brimstone at his 55th birthday, or develops devil eyes and talks about the natural disasters foretelling the end of the world, feels…slight to me. 
It may have been a lack of budget, but restricting most of the action to a New York street and Stan's dark, albeit large penthouse, made everything feel isolated and low stakes. Don't talk about the end of the world while restricting the action to a few thousand square feet, Monsterland!
I do think you hit the nail on the head with the competing leads, though,Terry. This is the first entry in the series with two protagonists and the episode suffers from a lack of focus. As much as I like Camp, his scenes were less interesting to me than the scenes with Hsu Rosen, who has a fresh faced energy that I found myself gravitating towards him. He's quite compelling to watch and this was only amplified when he was revealed as queer in the episode's final scenes (sidebar: the actor is also gay in real life!) 
Alas, Josh's interior life is barely fleshed out. While I applaud the casual reveal that he has a worried boyfriend or husband at home, the way that Josh is used throughout the episode once again feels like a missed opportunity. His perspective as an environmentalist who compromises his values to work for a destructive natural resource gobbling monolith is yet another interesting and oft-overlooked perspective that Monsterland introduces, but isn't willing to spend the time unpacking.
I love me some class critique, Terry, but not when a show isn't willing to do the work! 
And that's really what I've come to realize over the first half of this season. Monsterland is good at coming up with episodes that have an intriguing premise and it regularly subverts expectations. Most importantly, it regularly features an excellent and uniformly talented cast of character actors. But the narrative stumbles nearly as often as it succeeds, in part because the series succumbs to overly lofty ambitions. There's something about the real life social commentary (race, class, gender) that keeps getting compromised by Monsterland's need to deliver genre elements and that has really detracted from these last few episodes.
I'm excited to see how the back half shapes up, though, particularly since we know that the next episode is about explicitly queer characters! We'll see what's in store for us when we hop over to your site, Gayly Dreadful, for episodes five through eight.