Each week Terry and Joe discuss the most recent episodes of HBO Max's Pretty Little Liars: Original Sin.
Spoilers follow for episodes 6 and 7…
"Chapter 6: Scars"
JOE
Alright Terry, we're kicking off the back half of PLL:OS with "Scars," which turns out to be a messy episode. Messy in the sense that the episode is trying to do too much, and, as a result, it doesn't really do anything successfully. It's a frustrating hour where few, if any, of the developments feel creatively satisfying. "Scars" is a transition episode, if you will: everyone's plot moves forward a step or two, but the episode overall offers no big payoff, so the whole endeavour feels like the show spinning its wheels.
We kick things off with the bombshell from the last episode, which is that both Tabby (Chandler Kinney) and Imogen (Bailee Madison) were sexually assaulted. This winds up being frustrating since neither girl's account tells us anything new. The details are hazy because they were obviously drugged, but they don't know by whom. 
From a real world perspective, this actually tracks; their experiences correlate with people who have been roofied. My issue is that this is fiction, so it's not that they don't remember, it's that the audience isn't meant to know the details and the culprit(s) until later in the season (ie: when the show needs a cliffhanger). Considering how busy and overstuffed this episode is, having two scenes that fail to advance the plot is maddening.
"Scars" is trying to do more with all three of the other Liars, which means none of these storylines have any time to breathe. As Faran (Zaria) deals with her mother Corey (Zakiya Young)'s expectations about being perfect after an unnecessary childhood surgery for scoliosis, Noa (Maia Reficco) tries to get her mother Marjorie (Elena Goode)'s job back after she's fired for stealing drugs. And PLL:OS is also trying to do something with its most confounding storyline as Mouse (Malia Pyles) is stalked by Steve (Alexander Chaplin), the bereaved father who wants to pretend she's his missing daughter. 
Throw in A's attack on Kelly (Mallory Bechtel) and a road trip to Rosewood, the location of the original run of Pretty Little Liars, and this is a busy, busy episode.
This would be fine if any of it were interesting, but between the short amount of screen time each character gets and the ho-humness of most of these plots, there's not a great deal to latch on to. 
Take Imogen and Tabby's road trip. After meeting up with "Crazy Joe" (the man on the phone from last episode) at the train yard, the girls learn that Angela's mom Rose stormed the Millwood High cafeteria with a butcher knife, then was taken to a sanitarium. The site is now a fancy hotel where Imogen has no trouble throwing around "party money" (despite spending the whole last episode fundraising to save her house from being sold). Nothing much happens though: Tabby has a jarring imaginary encounter with a hot boy she meets in a bookstore, but mostly this is downtime as she and Imogen wait to connect with former sanitarium employee Eddie Lamb. He arrives at breakfast with all of the answers they conveniently need, including all of the signatures of people who visited Rose (ie: their moms)…plus a mysterious sixth A.
As I said, this moves the mystery forward a step or two, but it's done in the most rote fashion possible. The girls interview someone, who gives them a nugget, then they move on to the next person. None of these sources are characters; they exist solely to dispense exposition and they have no distinguishing quirks or memorable traits. I know that the real purpose of the trip isn't just to collect clues, but rather to spend time with the two besties as they grapple with their collective trauma, but Madison's acting and the surface-level writing rob this of any dramatic weight. Seriously, watch Imogen's face as Tabby recounts her bonfire experience: girl looks like she's listening to someone walk through their grocery list.
Anyways, enough bitching from me! Terry, what did you think of "Scars"? Did you note how much emphasis the show put on the fact that Angela was raped before she died? (Is A her baby?) Did any of Faran, Noa or Mouse's storylines work for you? And did you laugh when Henry (Ben Cook) noted the exceedingly high number of recastings Swan Lake has gone through?  
TERRY
Unfortunately, I agree with you, Joe. This is the first episode that felt like it was treading water. We're now 60% of the way through the season (and, given everything going on with HBO Max, I'd be surprised if this show survives) and we're given an episode bookended by trauma that does nothing to explore that trauma. Digging into those conversations, I've heard of people with "Resting Bitch Face" but Madison has "Resting Cheerful Face" so that every time she's given a moment to react, she seems miles away, thinking about her last trip to Tahoe. I won't keep harping on how much her acting in this detracts from the very dramatic stories PLL: Original Sin dishes out, but girl…this is your best friend!
I think the problem that "Scars" illuminates is that there's way too many characters and subplots for it to tackle the dramatic and heavy subject matters it brings up. Like these dual rape storylines, Noa is also dealing with a traumatic situation in her mother's addiction. But the emotional damage of a parent's addiction coupled with the child having to be the parent is only barely explored. In the end, we get a shot of the mother continuing down her path of addiction while Noa has decided to join the track team. As you noted, Angela was also raped before she died and right now her character is more of an inciting incident than a full fledged character so I don't even know what to do with that information. It's possible that we're dealing with Angela's child…though the bulky A seems more adult than the svelte teens in the series.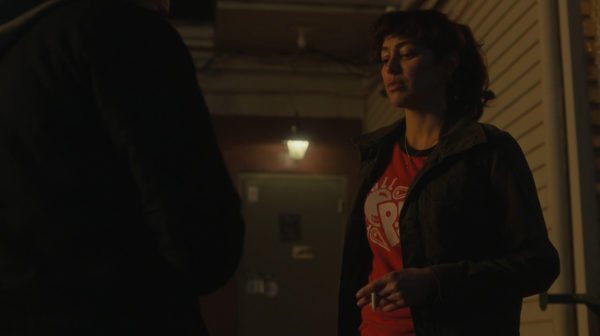 I don't want PLL: Original Sin to be trauma porn and bogged down by weighty subjects when it's a slasher mystery at its heart, but if you're going to interject discussions of substance abuse and sexual assault, you owe it to your viewers to handle them delicately. And "Scars" does not do that, at all.
I also don't know what to make of Mouse's story. It sounds as if she was doing this to give grieving parents one last day with "their child", but regardless of how dangerous that is (and creepy), it's also counter-intuitive. All that's going to do is draw out the pain and the other negative feelings surrounding a child's death. On one hand, I would think Mouse is smart enough to realize that, but the way she flippantly tells Steve she was just giving him one last time with her daughter tells me that she's in-too-deep in her own trauma (whatever it is) to think rationally about it. All I got from that bowling and ballet interaction was, "oh great, now there's another stalker." 
Which leads me to the ballet of it all. Yes, I laughed at Henry's blithe comment about the constant recasting in Swan Lake because the show's at least cognizant of it. But also? A Spider-Man musical joke in 2022? I immediately started singing Tituss's Spider-Man 2: Too Many Spidermen song from Unbreakable Kimmy Schmidt. On the more serious side, we do get to see that A is interested in punishing bullies more than anything else with the chase sequence in the theater. On one hand, this sequence of running back and forth, tossing chairs each way, paled in comparison to Noa's encounter with A. But it did end with Kelly seemingly confirming she is, in fact, Kelly and not Karen…
…though given the way this narrative has unfolded so far, I still think there will be a final episode cliffhanger surrounding this storyline…
So overall, this was a missed opportunity of an episode that felt less transitory into the final few episodes and more just treading water. It amazes me when we get shows like Queer as Folk that could have used an episode or two more and then we get shows with the full ten episodes that probably would have worked better as an eight episode run. But here we are.
Let's see what happens in Episode 7.
"Chapter 7: Carnival of Souls"
I don't know about you, Joe, but the carnivals I've been to are never this cool or atmospheric. Shows like Riverdale, Pretty Little Liars: Original Sin and their ilk sure do present small towns as idyllic and super cool. From the small theaters that play Jordan Peele double features to carnivals to the somewhat gothic high school…they seem like the ideal place to live. "Carnival of Souls" certainly lives up to the title, as we get a stunning (yet somehow very small) carnival, complete with a ferris wheel, carousel and house of mirrors. All given that YA sheen to look perfectly atmospheric, colorful, dark and fun all at once.
Speaking of the YA tropes: enter the storyline of a teen being pitted against their authoritarian parent(s) who don't remember the pain of being a kid and do things that are counterproductive to their children's lives. In Original Sin we get a double dose of that because not only are (most of) the parents failing in every regard in the present, this series has slowly been unpacking just how terrible they were in the past.
One thing I've actually enjoyed about the show is the way it weaves in these letters from A, addressed to the parents and filled with vague threats and ambiguities of their past. In "Carnival of Souls", the attention finally shines on Elodie (Lea Salonga as an adult / Emily Bautista as a teen) who receives a letter telling her to meet in the hall of mirrors. This, of course, triggers a flashback to the time when Teen Elodie met Angela (Gabriella Pizzolo) in the hall of mirrors and kissed her. When they're discovered by Davie (Ava DeMary), Elodie claims Angela attacked her and forced the kiss. We also learn how deeply homophobic the girls were as Davie replies, "Ew. Well, don't think you can come on to me next, Xena."
At this point, we've seen the past crimes of most of the 1999 Liars. Corey (Zakiya Young / Kristian Mosley) backed out after forcing Angela to get a tattoo and, as an adult, forced surgery on her daughter Faran that she probably didn't need and has caused her chronic pain since. Elodie explored her sexuality and then blamed Angela and has basically kept Mouse under lock and key her whole life, denying her the truth of The Stranger (we'll get to that later). Marjorie (Sarah-Anne Martinez as a teen) blamed the cigarette smoking on Angela and has a drug problem that has forced Noa to become the parent. Davie pulled Sidney (Sharon Leal / Kristen Maxwell) away from Angela the night she needed help the most and in the present she either was murdered or committed suicide. And all of the 1999 teens forced Angela to throw shit on some stranger's door before ditching her. 
The only original teen who has been given the Good Parent edit so far is Sidney, the seeming protagonist of the original girls. Sure, she was involved in the poo stunt and was allowed to be peer pressured into ignoring Angela's plea at the Y2K rave, but given everyone else's crimes, she seems to be the one that turned out okay. She has a good relationship with Tabby, gave Imogen a home and continues to deal with the guilt by visiting Angela's warehouse shrine.
The rest of the 1999 girls? Trash, so far. 
Aside from continuing to lay out the crimes of the past, "Carnival of Souls" also continues the plot lines established in "Scars," namely Tabby and Imogen's sexual assault and Mouse's situation with Creepy Steve. The former continues to be slowly parcelled out at an agonizing rate. Tabby goes from wanting to talk about it, to not, to going to the police, to being stopped, to talking to the nurse about it, only to not, to talk to her mother about it, only to decide not to, to finally about to reveal what happened to the rest of the PLL, only to be interrupted by a text. At least Tabby's visit to the nurse formulates a rather harebrained scheme to discover who raped Imogen. Nurse Simmons (Cristala Carter) has a flyer in her office about a blood drive happening right before Thanksgiving that hopefully the entire student population will be donating to. I'm not exactly sure how she's going to finagle it, but it sounds as if Tabby wants to use their blood for a paternity test.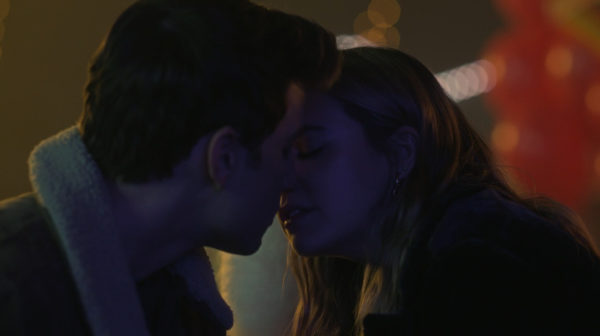 My money's on Chip (Carson Rowland), the unassuming and nice boy next door who has been not-so-secretly lusting after his best friend Tabby. He is also somehow narratively involved with Imogen this episode, leading to him being the "father" of their fake Health Class baby, as well as the "father" of her real baby at an adoption appointment. He speaks up for Imogen when the adoption lady naturally assumed he was the real father (similar to how he stepped in to "help" Tabby with the 'Psycho' shoot). Then, somehow, Imogen quickly falls at least somewhat in love/like/crush with him over the course of an episode, and then kisses him by the episode's end.
I do think this episode is a step up from "Scars" in that it feels a bit more focused and we get some juicy plot developments that move the story at least a few steps forward. But this is just the tip of the barrel in this episode crammed with little details.
Neither of us were fans of "Scars", so I'm curious if this episode worked better for you, Joe? We've both been flummoxed with Mouse's storyline, which gets a bit more fleshed out here, so did the side story with Steve and the revelations about Mouse's "Momster" work for you? Speaking of Mouse, we also get another chase sequence so I'm curious of your rankings of them so far, from Noa to Kelly to Mouse? Should we be worried about Noa's inhaler? And what do you make of Faran's back brace altercation with her mother?
JOE
This is a tricky one, Terry. It's demonstrably better than "Scars," but a lot of the same issues persists because this is the creative direction PLL:OS has decided to go. It's not bad, per se, but it's still incredibly busy and somewhat boring at the same time?
Part of the issue is that both Faran and Mouse's stories are very, very obvious. As soon as Henry finds out about Faran's injury, it's a straight line through to Giry and a doctor that immediately puts a stop to her dancing. This should have dramatic weight because Faran's entire storyline is about her love of dance and all of this 'Swan Lake' nonsense, but it doesn't emotionally connect. Did I enjoy watching her stick up to her belligerent mother and get in a few digs? Sure…but we all knew they were coming.
Same with Mouse and 'Momster.' As soon as it was revealed that Mouse was nearly the victim of a child abduction by The Stranger at aged five, it was obvious that the man in question was her real father. The single best part of this storyline, which also included the usual ultimatum and Mouse resisting being "protected" was the fact that the young girl was responsible for the threatening texts that ultimately forced Elodie to come clean. That was a genuine surprise because the show has conditioned us to expect these messages from A, so having Mouse use that tactic against her mother was a nice little subversive moment.
Tabby's storyline actually worked better for me in this episode. Yes, it's filled with stops and starts, but finding the words to say that she's been sexually assaulted isn't a simple thing. I kind of appreciated that every time she works up the courage to say something, walks it back. Tabby hasn't truly begun to process her trauma and once she says it aloud to a figure of authority, she can't take it back…so she hesitates. It's frustrating as a viewer because it's repetitive, but I liked that PLL:OS didn't rush through this like it has with so many other storylines.
With that said, I don't think much of her new plan to identify Imogen's baby daddy. What are they going to do: test the blood of every male in the school? How is that going to work?! Lol.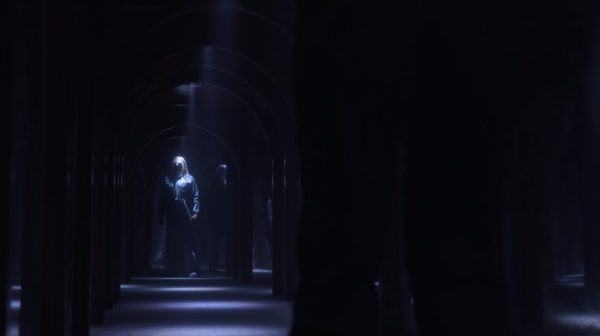 The piece de resistance is definitely the Carnival. I fully agree with you that the scope of the production is ridiculous for such a small town, but I definitely don't mind it. Plus: Mouse and Ash (Jordan Gonzalez)'s Hall of Mirror chase scene is an absolute banger. The show is at its best when it fully embraces its slasher elements, and this one is really solid. I love the setting (it's tried and true for a reason) and the combination of music and the eventual red lighting as A charges down the hall after them is incredibly effective. For my money, it's still Noa's hallway/rooftop sequence, then this, and finally Kelly's, which is good, but too brief.
With this episode in the can, we're down to next week's final three episodes and I'll be intrigued to see what, if any, revelations we get. I was glad to see our modern Liars speculate about A's possible identity at lunch because it gives us some solid possibilities (they mention Eric Johnson's Sheriff Beasley, Derek Klena's Wes and Angela's mysterious father and those all check out). There's a stronger chance we'll learn the identities of Tabby and Imogen's rapists, and I'm with you, Terry, that it's apt to be Chip. I like him with Imogen, despite the lack of groundwork laid for their relationship, but he's just too nice, which is an immediate red flag on a series like this.
I'm predicting that Tyler's death will also become public knowledge, that Noa's inhaler subplot will pit her against Sheriff Slender Man (unless it's a red herring) and that we're going to lose at least one of the mothers/1999 Liars. And since we got a tease of the rivalry between towns at the Carnival, this will likely all go down at the football game.
It's YA, Terry, I'd expect nothing less!
We'll find out how well I can see into the future when we hop back over to Gayly Dreadful for the final batch of episodes next week!
---
Pretty Little Liars: Original Sin airs Thursday on HBO Max