Each week Terry and Joe discuss the most recent episodes of HBO Max's Pretty Little Liars: Original Sin.
Spoilers follow for episodes 1-3
Logline: 20 years after a series of tragic events that almost torn the town of Millwood apart, both the young and old generation of Millwood must face the consequences of their past when an unknown assailant seems to know an awful lot about their secretive history.
"Chapter One: Spirit Week"
JOE
We're back Terry, and I'm excited because we're covering a series…that's a sequel…to a long running series…that is itself an adaptation of a YA book series…and neither of us is familiar with any of it!
To say that A would be disappointed in us is probably an understatement, but all jokes aside, I'm intrigued to see whether Pretty Little Liars: Original Sin can stand on its own and appeal to new viewers like us.
If the first episode is any indication, the answer is a resounding yes. Showrunners Roberto Aguirre-Sacasa and Lindsay Calhoon Bring have undoubtedly included Easter Eggs for fans of the OG series and books, but for casual viewers like us, "Chapter One: Spirit Week" was pretty accessible. Maybe it's just because I consume a lot of YA content, and obviously both murder mysteries and high school shows employ generic conventions, but whoo boy are we ever leaning into stock characters and familiar plot points (at least in this first hour).
The action goes through multiple time jumps, beginning with a New Year's party that goes awry when a girl dies by suicide in 1999. The action picks up 22 years later when the traumatized teens are now adults with kids of their own. We're barely introduced to adult Davie (Carly Pope) before she receives a flyer from the notorious party and offs herself, leaving her pregnant daughter Imogen (Bailee Madison) to move in with horror movie bestie Tabby (Chandler Kinney) and her mother, Sidney (Sharon Leal).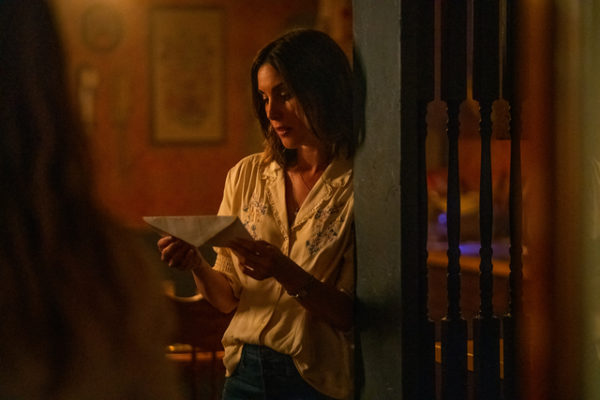 The NY party remains in play each time we're introduced to the adult version of each of the five 1999 girls (director Lisa Soper cuts back to their teen face so we know who to associate with who). But mostly the focus is one the new crop of Liars – Imogen, Tabby, ballerina Faran (Zaria), closeted computer gamer Mouse (Malia Pyles), and juvenile delinquent Noa (Maia Reficco) – as they negotiate the final days at Millwood High School. The nature of their individual struggle varies, but by the end of the first episode, it's evident that they share a common enemy in the form of Karen (Mallory Bechtel), the queen bee/mean girl/head bitch of the school who has an axe to grind against each of them.
While I'll admit that I think Karen is a delectably hissable villain, the final John Hughes-esque sequence when the girls, sequestered in detention for crimes they didn't commit, didn't exactly work for me. Not only does it require some fancy retconning via flashback to explain why Mouse would be targeted, the moment when Imogen breaks the fourth wall to address the camera and declare that they're going to "Kill Karen Beasley" feels more ridiculous than exciting.
Perhaps it's just that the show has spent too little time building up the relationship between the girls, preferring instead to focus on their individual struggles for most of the runtime, that this feels too big, too fast. Or it could be that having a teen girl proudly declare her intention to commit murder feels a bit forced when the show has already featured two suicides and the murder of a rapey janitor.
But I'm intrigued by your response to this property, Terry. Which of the girls are you most interested in? Do you think introducing everything over the course of a week (the first episode covers Monday through Wednesday) is a good creative choice? Are you excited that we have a queer lead in Mouse and a closeted supporting character in Sheriff Beasley (Eric Johnson)? And how surprised were you to realize that Karen has an identical twin sister, Kelly (also played by Bechtel)? I'm sure Kelly won't accidentally wind up dead or injured in the plot to dispense of her sister 😉
TERRY
You mentioned this feels too big, too fast and that was my biggest complaint of this episode, Joe. It's a whirlwind of action and the kind of episode I hate trying to take notes for because we're introduced to around a dozen characters we need to completely pay attention to, spread between the adults who were involved in the original 1999 drama and the current crop of the titular Little Liars.
And that's not even taking into consideration the surrounding characters, like creepy Wes (Derek Klena who played DJ Fingablast in Unbreakable Kimmy Schmidt), who can't believe he's Ari Aster's age and is trying to fool around with Tabby or Ash (Jordan Gonzalez), a queer kid who pulls Mouse into Spectrum, an after school queer club. 
There's also the boyfriends, particularly Greg (Elias Kacavas) who Imogen may/may not have kissed and seems to be hiding his own secret, and Shawn (Alex Aiono), who is dating Noa but was hit on by Karen. There's also a stable of adults, including the principal, counselors, a janitor (RIP Jason) and so much more. 
It's a lot.
By the time we do get to the Breakfast Club detention set-up, it unravels in the blink of…maybe a minute or two max? Perhaps the problem is that it didn't focus on each of their interactions with Karen, and some of the interactions were so slight they had to be discussed at the end to remind viewers they even happened. Maybe if this were a Stranger Things 4 length of an episode it would have worked…but cramming this amount of drama and characters into a 53 minute runtime was a lot.
It does open up a couple intriguing lines of mystery, though. In terms of the girl I'm most interested in, at the top is Tabby, Imogen's horror-loving bestie…but not because of the horror, but because of her secret camera she's hidden in the boys' locker room. When she retrieved the camera, I thought she found someone spying on the girls' shower but "Spirit Week" didn't address it for a long time, eventually revealing that she hid the camera in the locker room.  Why? Is it just to catch the butts and dick that she quickly scans through? 
All of the five girls get an ominous text from some unknown number and Tabby, of course, gets a "What's your favorite scary movie?" followed up by a "Peeping Tom" when Tabby asks who this is. Is Tabby a Peeping Jane? Is something else going on there, other than creepy, non-consensual voyeurism? And what's up with her relationship with Wes? It's creepy that an Ari Aster-aged manager is hitting on her, telling her she's special in the way the college girls he used to be around were, and dangling her favorite college admissions over her. But is she playing him? I'm curious. I am excited for the queer rep we're getting so far, though the Sheriff Beasley thing happened so quickly (again, my biggest complain of the episode) and was never addressed again. 
Considering this comes from two writers involved with Riverdale and The Chilling Adventures of Sabrina, it shouldn't surprise me just how many horror easter eggs there are…and jury's still out with me on whether these will be endearing or obnoxiously meta. From Kate Jennings Grant's ballet instructor Mme. Giry (The Phantom of the Opera) to Faran's mother working at Strode, Prescott, Ripley and Associates to the discussions of the Masters of Horror and whether De Palma's movies are worthy to the Black Swan allusions ("whore" being written over ballet dancer Karen's Spirit Queen poster). We have Weses and Ashes (his online name directly references Ash vs. Evil Dead) and name drops of Hell Mouths and split diopters and dutch angles (hello De Palma) and suggestions of Carrie in the Spirit Queen subplot (hello again, De Palma)…and I'm sure I've missed a ton more.
Beyond some of the problems I have with the briskness of this episode and the plot introductions that go nowhere (yet), the central mystery has me hooked. I'm curious about the big ol' slasher dressed in either overalls or maintenance clothes. I'm curious about the secrets that each of the characters harbors. I'm curious about the connection between the '22 mystery and Angela's suicide in 1999. There's enough meat on this bone to keep me enticed so far. 
"Chapter Two: The Spirit Queen"
After the frenetic pace of the first episode, "The Spirit Queen" takes a more measured approach to the characters, focusing on the Pretty Little Liars and the twins and ignoring the 1999 storyline and the parents completely. Episode two is much better for the decision as it begins to show how easy it is to make the victims the bullies. It's obvious that someone is manufacturing the drama between the Liars and Karen, even though the Liars are firmly convinced that Karen is doing this to herself to frame them.
The episode also gives us some context for the rift between Karen and Imogen, taking us back to "About Six Months Ago" to the party where Imogen is confronted by a drunk Greg, who uses his body in red flag ways to herd her simply with his presence. Turns out Kelly saw something (maybe), runs to Karen to whisper in her ear and then the drunk Karen kicks Imogen out. But Imogen forgot her sweater so ends up back in the house where she finds another dick named Tyler (Brian Altemus) filming Karen and trying to get her to show him her breasts on camera. This little bit of footage becomes the lynchpin to the Liars's plan to get back at Karen in the present. 
Tabby comes up with the plan to edit and screen the footage before her Jordan Peele double feature and the Liars move throughout the school to hand out tickets and get the biggest turnout possible. But while Imogen begins to question this plan, "A" (purporting to be Karen) sends them each a video that's tailored to annoy and terrorize them. Faran gets a video of someone putting the razors in the slipper, Noa a video of someone spiking her urine, Mouse gets the worst video of a rat being burned alive, and Imogen and Tabby get a video of someone slashing Karen's posters. It's this "animal torture porn, Jeffrey Dahmer style", in the words of Tabby, that pushes them over the edge.
Of course after the act, as Karen and Kelly flee the theater, Wes gets angry with Tabby (and then once again offers "to take her home"), Imogen has a flashback to her mom warning her not to hang out with Karen or become a mean girl. "She's a bully…and I don't want you to be those things. You can't ever be those things, do you understand?" she tells Imogen. Karen also addresses this with Imogen, telling her that she could have deleted the video but she kept it because she knew she could eventually use it against Karen. "You're not a good person." And while she's absolutely right, it's a bit ironic coming from her. 
I'm glad this episode slowed things down a bit and gave us more time spent with the Liars as a group. It's difficult to focus on five separate characters in an hour-long show that's so focused on building a plot, so giving us group moments really helped. It's a little weird how quickly they go from being relatively ignorant of each other to an inseparable "glam squad" but here we are. We also get a ton of horror and movie name drops, from Tabby saying, "hold onto your butts" to telling Imogen to "relax Lady Bird" to listing their favorite dance movies to "Perks alert" as a Perks of Being a Wallflower homage and more. Including the finale…
But over to you, Joe. You mentioned Sheriff Beasley in episode one and I'm curious if you're intrigued with his menacing, closetted queer villain energy? I'm still on the fence about the horror name drops and homages, but are they working for you? In the vein, what are your thoughts on the Carrie ending and…which twin do you think was pushed to her death? 
JOE
I'll tackle the last question first, because I'm still convinced that Kelly is the one who bit it. In this episode, there are no less than two instances when someone confuses the twins (Kelly impersonates her sister with Principal Clanton, then Kelly accuses Imogen of "twin-fusion" at the dance). This seems like pretty obvious foreshadowing on the show's behalf, subtly telling the audience that the twins are interchangeable. I'll admit that I will be disappointed if Kelly is dead, if only because her dark turn following the screening was refreshingly unexpected. Kelly is the more interesting of the two twins in my opinion.
Overall the Carrie ending is…fine? It was very expected, and while I did appreciate the recreation of DePalma's iconic shots, including the biting of the lip and the blurry 360 degree rotations, the level of (horror) movie homages on this show has begun to border on insufferable. I know from folks who watched the OG show that it was no stranger to doing these kinds of references, and I'll confess I'm fine with this kind of big, grandiose homage if it's once an episode. It's the constant name-dropping by Tabby that is grating on me (so much so that I've begun to send you GIFs of my frustration). Tabby is clearly meant to be the fun meta-referential character of the series, but it's playing more like a subpar version of Randy (1996) or Mindy (2022) in Scream. And let's be clear: Jamie Kennedy and Jasmin Savoy-Brown did it better and were far less egregious.
Now it may sound like I'm coming down hard on the series and that's not my intention. Aside from these little details, I'm finding the show highly watchable in ways that Riverdale and The Chilling Adventures of Sabrina never were. Sure, PLL: OS is hyper-stylized and overly self-referential, but many of the amusing bits (the glam squad dance montage, for example) actually plays really well.
I agree with you, however, that everything feels like it's happening too fast and we still don't know enough about these girls. I appreciate that we're accruing mysteries (in addition to Tabby's surveillance, I want to know: who is Imogen's baby daddy? What did Noa go to juvie for? What's Mouse's tragic past? Why isn't Faran more interesting?) That's in addition to the Y2K mystery involving the parents. In short, there's so much fun stuff to ponder, but a slightly slower narrative without a big murder set piece every episode would still satisfy because there's so many characters and the vast majority of them aren't getting enough screen time.
I imagine now that this two part, Spirit Queen week double bill has done a lot of heavy lifting to introduce the new premise and characters, we may see more time dedicated to our Liars. One down, five bullies to go, Terry!
"Chapter Three: Aftermath"
After watching episode three, I feel like we're seeing the show start to settle into a rhythm. This episode slowed things down and we got more insight into the characters as they debated whether or not to turn on each other in the aftermath of Karen's death. We also spend more time with the moms from the Y2K party, which wisely keeps the 1999 mystery in play as Imogen and Tabby begin to piece together the various As that they've encountered.
Do we still know far less about Mouse, Faran and Noa than we do about Tabby and Imogen? Absolutely…but we're getting there.
Aside from confirmation that Karen is indeed dead and Kelly remains alive (happy to be proven wrong!), "Aftermath"'s biggest surprise is the continuation of the daily titles as a narrative structural device. This episode covers the week after Karen's death, as we head towards a Disciplinary Hearing that will decide our Liars' fates: will they be expelled from school? Will Sheriff Beasley follow through on his plan to make the girls pay for his daughter's death with jail time?
It's a touch underwhelming that the show builds to the Friday hearing only to suddenly cancel it when Kelly admits the plan to embarrass Imogen. It's not that I wanted to see the girls and their moms defend themselves at the hearing, but it's odd to tease something for fifty minutes and then take it off the board in the eleventh hour.
If anything, it's more interesting to see how the Sheriff and Principal Clanton completely disregard any kind of decorum or protocol so that they can initiate a witch hunt targeting the girls. It's completely logical when Faran's absent lawyer mother Corey (Zakiya Young), who sweeps in from Pittsburgh, argues that they have a case against the police department and the school for accusing the girls without an adult present. (My personal favourite moment is the reveal of the cover of the Millwood newspaper, which actively calls for the girls' expulsion. Intrepid, unbiased journalism there!) 
Of course the girls aren't entirely innocent, and the real juicy bit occurs when Noa tries to convince Faran and Mouse to flip on the other two in order to save themselves. This gives us more insight into what's driving Noa, as well as her relationship with both her mother and boyfriend Shawn. Faran quickly agrees to the suggestion after she's kicked out of ballet (Mme. Giry is the show's true villain, no?) whereas Mouse never truly consents. Malia Pyles is all eyes so her performance comes off as very empathetic – even childish – but seeing her refusal to bend to Noa and Faran, as well as questioning whether A is testing them, makes it clear that she's a character of both integrity and intelligence.
Meanwhile we're also picking up more intel about the notorious Y2K party, including the new knowledge that Angela didn't just die by suicide, but that the whole rave was quietly covered up so her body wasn't discovered for 2 (!) days. I'll admit that this plot point makes absolutely no sense, Terry, because there were at least a hundred people there so something would have leaked. Still, it's good to see Imogen actively picking up the investigation, including a beloved microfiche moment, as she goes from Yearbook to crime scene to The Scarlet Letter and the Y2K Survivors Club that all of the moms are a member of (BTW: keeping the party secret, but forming a survivor's club? Rookie mistake, ladies).
But I'm intrigued to see how you felt about the fall-out from Karen's death, Terry? Are you happy with how the series is contrasting the different home lives of the girls? Did Tabby's acknowledgement that theatre Manager Wes is "manipulative" make his scenes easier to watch for you? Was A's appearance at the cemetery enough of a cliffhanger for you? And where will the series go next week?
TERRY
My biggest struggle when it comes to watching things is keeping track of everyone, particularly when we haven't spent a whole lot of time with them. And so trying to figure out which mom correlates to which 1999 teenager has been a struggle. Mostly it's because we only get brief flashes that connect the two actors, but we haven't spent too much time with either the parents or their 1999 iterations so the faces all tend to merge into one weird blob for me. So that's been the hardest part for me, getting into this show (knowing full well it's probably a Terry problem).
Personal issues aside, I do think it's a problem with doing dual storylines where the time isn't equally spent between the timelines (for a more successful version, see Yellowjackets). Maybe (hopefully?) a future episode will be completely devoted to the night of Angela's death and that will help cement each of the women for me, but right now, the structure isn't completely working for me.
That also somewhat segues into your question of the different home lives because they've felt a little rushed. In this episode I'm glad that we get to see more of the strife between Faran and her mother, who snidely chastises Faran with, "I can pay for your life, I just can't control it." That's such a weird line because Corey says with such force and implied self-empathy that you can almost buy it…except that that's exactly what parents should do. Provide for their kids but let them find their independence (especially as teenagers). This storyline gets wrapped up with a bow at the end, which makes it stick out like a sore thumb when it's never mentioned again. After the "Kelly ex Machina" of the ending brings a stop to their hearing, Corey is all hugs-and-love-yous with her daughter.
Noa's strained relationship with her mother is far more interesting, and thematically on point, for a series that's about the sins of the parents visited on the children. "A" clearly wants to punish the parents through their kids so so Noa's desperation not to ruin her life by turning on her "friends" (who she only just met a week ago) clearly has ties to her past when Noa took the rap for her mother's drugs. I also appreciated the suggestion that Sidney (Sharon Leal) feels guilt over what happened to Angela in 1999, as she attends the shrine to pay her respects.
This all leads me to wonder about the identity of A and what their motive is. They've manufactured drama between Karen and the Pretty Little Liars (kudos, by the way, for flipping the script and having Beasely call them "little lying bitches" as an inversion of the title), practically orchestrating the violence. They also call the PLLs "bullies", lumping them in with Karen. 
But was the point of the first two episodes to test them? To see if the PLLs are bullies and they just played into A's plan? A lot of this early build has been based on conjecture and people acting a specific way that, if things are going according to A's plan, they'd have to know what makes these characters tick. At this point, I'm wondering if A is either a blood relation of Angela's or if they dated her at some point. Using The Scarlet Letter's "A" shows the character has some intimate knowledge of Angela and her love of the novel. It's also weird to me that A can have their lair on campus while also lurking around the factory that Angela died in. Right now, A gives me 80s slasher vibes, where the killer can seemingly be everywhere at once.
I'm glad you mentioned the Tabby and Wes situation because Wes has been giving me creeper vibes from the very beginning, including how he uses his position as Tabby's supervisor and a Lecter quid pro quo to get her to do what he wants. Dangling the flash drive and Tabby's future in order to force her to dinner and a movie at his place made me curl my lip in disgust. And the fact that he begins talking about how giallo actually is just a term for yellow while he's cooking Italian food made me roll-my-eyes at the film bro of it all. So, yes, it made me happy that Tabby at least knows it's happening and is able to turn it on its head, as she rushes out of the place, flash drive in hand.
As for what I'm hoping to see next in the story…Original Sin tends to just weave small plot details through its first three episodes that it doesn't mention again. For one, what is Tabby doing filming the guys showers? Are we going to see more about Sheriff Beasely's closetted queerness? Who is the father of Imogen's fetus? We've finished what's ostensibly the first act of this story, so I'm hoping the mysteries become more juicy and the investigation churns out more twists because, right now, that's what's keeping this series intriguing.
I also wouldn't give up on your theory that Kelly is actually Karen, Joe. Whenever a narrative introduces twins, it's almost always for a particular reason. Maybe Karen actually is dead and we're going to have some kind of psychological breakdown for Kelly as the survivor who, in this episode, feels incredibly guilty that she survived and her sister didn't. But Karen would also probably take this opportunity to greedily switch lives with her sister, don't you think? It's even hinted in a throwaway line by Sidney, "It was definitely Karen that died?" Before Karen took that final plunge, her social life was DOA and why would she want to continue to live as Karen, when she could easily rehabilitate herself as Kelly? So I wouldn't discount yourself, yet, Joe.
Hopefully we'll find out when we head over to Gayly Dreadful because next week's intriguingly and ominously titled episodes "Chapter 4: The Fe(Male) Gaze" and "Chapter Five: The Night He Came Home."