The opening of My Heart Can't Beat Unless You Tell It To perfectly sets the stage for the nightmare to come.
The film opens with everyman Dwight (Patrick Fugit) picking up a transient man in his truck, driving him to a building that "used to be [a house]", then murdering him with a basement bat.
This opening scene is filled with questions: who is Dwight and why has he killed this man? Why do he and his sister Jessie (Ingrid Sophie Schram) undress the man, drain his blood into a bucket, and pour the contents into a bowl? And why does their sickly younger brother Thomas (Owen Campbell) eagerly drink it?
The answers won't surprise genre fans, but first time feature writer/director Jonathan Cuartas does an excellent job of using audience expectations of vampire films to his advantage. Rather than spell out the rules and the mythology, Cuartas relies on what can be deduced from other films. This frees him to focus on crafting a small, intimate and dread-filled film about the familial ties that bind. 
Dwight's line about the house is telling: the building where he lives with his siblings is unambiguously a house…and yet in the context of the narrative, it's also a prison and a tomb. Dwight is trapped in the facade of a normal, functional family as much as Jessie and Thomas, but their lives are hollow facsimiles of real ones because their every waking moment circles around keeping Thomas fed and safe. 
In this capacity Dwight is a prisoner of his own life: he doesn't want to kill people and he doesn't want to pretend that eating meals at 3am because Thomas can't be exposed to sunlight is ordinary. Dwight longs to escape from his responsibilities, but every time he contemplates leaving, he's held back by his sister's pleas or his sense of duty. Even if he wants to leave, this is what Dwight has to stay and do.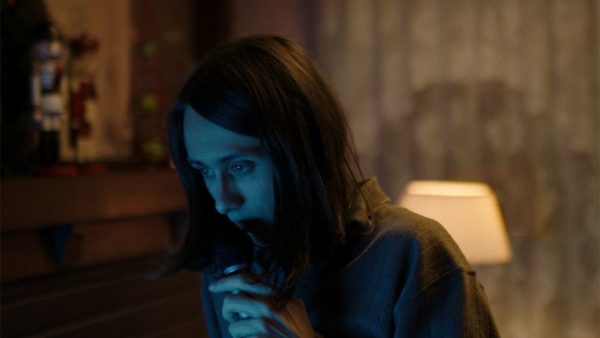 My Heart Can't Beat Unless You Tell It To is awash in a dreary colour palette of yellows and browns that, combined with the subject matter and the muted performances, can feel claustrophobic and suffocating. The film would be unbearable if it weren't for the short, isolated moments of human connection and joy.  A recurring motif involves Dwight paying for non-sexual encounters with a local sex worker where they plan the details of a fictitious escape to Miami that all involved know will never happen. There's also the time when Dwight purchases a Karaoke machine for Thomas for Christmas at a pawn shop, resulting in a brief moment of musicality that is repeated, in far more horrific fashion, later.
It's great, thorny material that is all the more compelling because the film is so quiet and introspective. Characters rarely speak above a whisper, as though everyone is terrified of what will happen if they raise their voice (and, in fact, when characters do explode, they've been sitting with their anger and resentment for so long that their words hurt as much as the kills in the film).
Cuartas also makes wise use of long, often static takes to make audiences sit uncomfortably in the moment, which only helps to make the sporadic bursts of graphic violence more impactful. The film is similar in tone and subject to the sublime Swedish vampire film Let The Right One In in many ways, particularly the inescapable sense of dread that hangs over everything. It's a calm, measured approach to genre filmmaking that really complements the storytelling, and lets the actors, particularly Fugit's sad, forlorn Dwight, shine.
The Bottom Line: While the contemplative, verging on languid pacing may prove challenging to those eager for bloodshed, for audiences willing to commit to a slow burn, My Heart Can't Beat Unless You Tell It To is a treat. 4.5/5
---
My Heart Can't Beat Unless You Tell It To played at the 2021 Tribeca Film Festival.