Twenty years after Eddie Murphy brought the Disney attraction to life, LaKeith Stanfield takes the reins as the star of Haunted Mansion, a new take on an old story that feels both stale and forgettable right out of the gate.
The Get Out star plays Ben, a barely functioning alcoholic New Orleans historical tour guide who is still grieving the death of his fiancé. Hard up for cash, Ben jumps at an offer from a persistent priest named Kent (Owen Wilson) who asks for his assistance proving the existence of ghosts in the titular haunted mansion just outside town. Turns out that Gabbie (Rosario Dawson) and her young son Travis (Chase W. Dillon) have purchased the house and discovered its dark secret: anyone who sets foot inside is doomed to be haunted by its many, many ghostly inhabitants.
Katie Dippold's script eventually assembles an all-star team* of paranormal experts, including historian Bruce (Danny DeVito) and mediums Harriet (Tiffany Haddish) and Madame Leota (Jamie Lee Curtis), all of whom have their own secrets and insecurities to contend with. Together the group must work together to uncover the hidden history of the house, explain its spectral hauntings, and identify the mysterious malevolent figure (played by a CGI-fied Jared Leto) driving the conflict.
* Winona Ryder and Dan Levy both appear as tour guides, but it's nothing to get excited about. Both roles barely amount to anything more than stunt casting and even calling them cameos feels generous given their screentime.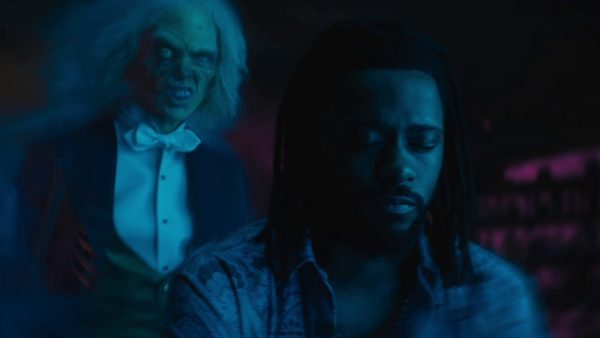 Unfortunately none of this – not the mystery, not the hauntings, and not the origin story – are particularly new or exciting. Even more troubling for a family adventure based on a beloved theme park ride, very little of this is fun. The vibe is off almost immediately as the film struggles to get started, moving in fits and starts as Gabbie and Travis arrive at the mansion and swiftly leave in the cold-open, jumping back to the past to introduce Ben and his ill-fated beloved before finally circling back to the present when Ben is recruited by Kent.
The humour, in particular, feels strained. Stanfield is a great actor, but even he can't do much to make Ben more palatable: his curt, barking reactions to the excited tourists on his walking tour is played for laughs, but it's mostly uncomfortable and stilted. It's not until Kent, and then Bruce, get more screentime that director Justin Simien finds the film's rhythm and Haunted Mansion manages to crack a few successful jokes.
Most surprising for a $157M film is the uninspired look of the special effects, particularly the ghosts and their movement, which looks identical to its two decade old predecessor.
Even the homages to the ride, such as the portraits that move, walls that stretch, and chairs that glide of their own accord, have an air of necessity. They're there because audiences expect them, not because they serve the story or the character development.
The end result feels very paint by numbers and soulless. Owen and DeVito fare best, while Haddish wrings everything she can out of a thankless role, leaving Dawson and Stanfield to anchor the perfunctory "straight" characters' obligatory love story and family friendly message.
A film such as this should be fun and exciting, or at the very least, breezy and simple; instead it proves bland and forgettable. At 123 minutes, Haunted Mansion feels like it will never end; audiences may well feel like they're trapped in the house along with the characters. 2/5
---
Haunted Mansion is in theatres Friday, July 28